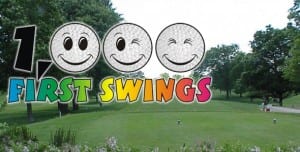 The Village Greens of Woodridge is looking to introduce 1000 kids to the game of golf…for FREE. They'll provide the clubs…special clubs, made just for kids, that they can borrow when they come. They will also provide the range balls…one bucket for an introduction, and 3 more FREE if they show an interest in the game. They will even teach you how to teach them their 1st golf lesson…it's easier than you think.
But they need your help to find the kids and bring them to Village Greens. Your own kids, your kids friends, nieces, nephews, grandkids, neighbor kids, the little league team, the girl scout troop…bring them all. They're looking to reach 1000 kids and introduce them to the game we both love so much.
Kids ages 4 – 17 are welcome. If you would like to introduce a kid to the game of golf for FREE, CLICK HERE.