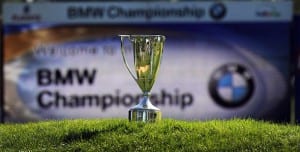 The PGA Tour returns to the Chicagoland area this September and they need your help. Be part of the action by becoming a volunteer for the 2013 BMW Championship at Conway Farms Golf Club in Lake Forest between September 9-15. The BMW Championship is the third leg of the FedEx Cup Playoffs. The Top 70 PGA TOUR players in the FedEx Cup points will be invited to participate.
All net proceeds from the event go to the Western Golf Association's sole beneficiary, the Evans Scholars Foundation, which awards over 230 college scholarships to deserving young men and women caddies each year. The BMW Championship is the foundation's largest fund raising event of the year.
Rory McIlroy won the 2012 BMW Championship with a 5-under 67 to win his second straight FedEx Cup playoff event. He became the first player since Tiger Woods in 2009 to win in consecutive weeks on the PGA Tour. The tournament was played at Crooked Stick Golf Club, which is located in Carmel, Indiana.
Volunteers are asked to purchase the Championship Volunteer Package and are encouraged to work 3-4 shifts of approximately 5 hours at a time. Some committees will require you to work one shift that covers an entire day. Scheduling will take place in the spring and committees will be filled on a first-come, first-serve basis.
Committees include access control, admissions, caddie hospitality, child care, corporate hospitality, marshals, mobile device roamers, merchandise, practice areas, product delivery, scoreboards, Shotlink, standard bearers, VIP transportation and volunteer training. Committee assignments can only be given to those volunteers who have paid their registration fee.
To learn more, visit the 2013 BMW Championship Volunteer website. For further questions regarding registration and volunteer committees, please contact Kelsey Knapp by email, [email protected] or by phone (847) 724-4600 ext. 3790.
2013 BMW Championship
September 9-15, 2013
Conway Farms Golf Club
425 Conway Farms Drive
Lake Forest, IL 60045