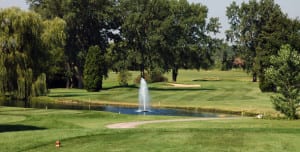 Despite the strength and persistence of the winter of 2014, the polar vortex and the Alberta clippers have not deterred the management of Willow Glen Golf Course at Great Lakes from planning ahead to the opening of the 2014 golf season and for improvements to their course.
Being situated on the grounds of the Great Lakes Naval Training Center, Willow Glen Golf Course is generally regarded to be 'military golf course'. The course is operated by the Morale, Welfare, and Recreation Department of the U.S. Navy; still, Willow Glen is open to the public.
In a recent press release, Dan Kraft, the general manager of the Willow Glen Golf Club, stated that despite the long, harsh winter, there are many positives to look forward to when the course opens, as soon as possible, for the 2014 season. "First, the bunker restoration work which we began last Fall will be fully completed. Additionally, other projects that we look to get off the ground in 2014 are the installation of an irrigation well behind the #6 green and cart path renovations throughout the course. The irrigation well project will allow us to stop watering with city water, eventually saving us some money on utility expense. The cart path project consists of a facelift on all of our paths, whether it be just a sealcoating or a complete replacement. We are also getting a new beverage cart which will make sure our "thirsty golfers" are taken care of with a variety of hot and cold options." And with a final note, Kraft added "affordable golf continues at Willow Glen as rates will remain the same for the third year in a row with plenty of great specials being offered throughout the year."
Willow Glen is an 18-hole, par 71, layout featuring two creeks, five ponds, 47 bunkers, and more than 50 willow trees to provide a most effective challenge for golfers. There are four sets of tees measuring 6637 / 6184 / 5512 / 5006 yards. A full flight, all grass station, driving range with six target greens provides an excellent warm-up or practice opportunity. Other golf amenities at Willow Glen include a 9,000 square foot practice green and pull carts and riding carts for rental, and Buckley's Restaurant — a bar, grill, and full service restaurant.
Buckley Road (Route 137) & Great Lakes Drive
Great Lakes, IL 60088
847-688-4593