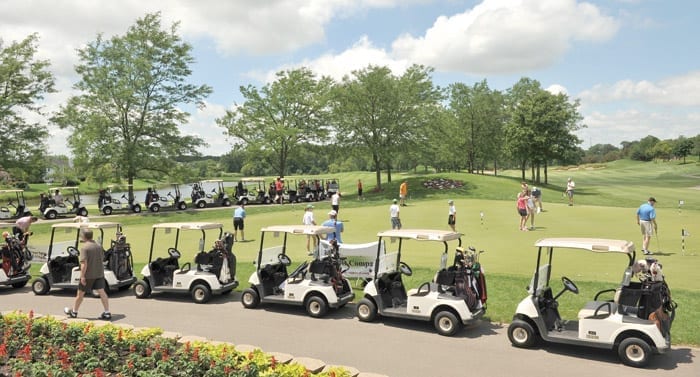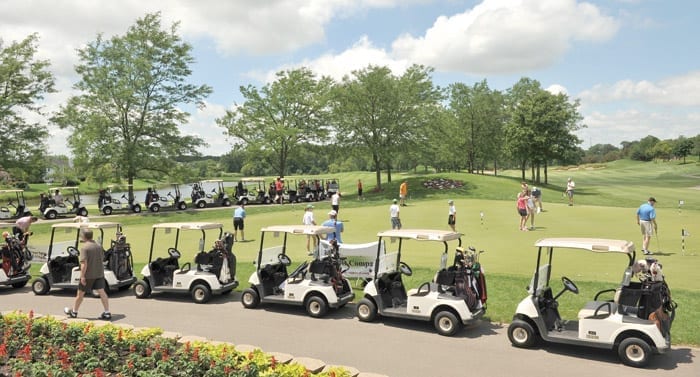 Every year, thousands of charity golf outings take place across the country to help support many of worthy causes. The format of these events is often quite similar, highlighted by a closest to the pin contest, a longest drive contest or maybe even a hole-in-one contest.
For the past decade, SMT Events from west suburban Oswego has been working to change the face of golf outings by incorporating fun and unique games and activities. Their efforts have helped hundreds of local charities raise over $13 million during that time period and have built a growing audience of raving fans for SMT Events.
Now SMT Events is once again looking to turn the world of golf outings upside down with the announcement of their most recent concept, the Birdies or Better Pledge Drive Golf Outing that will take place on Wednesday, August 28th at Ruffled Feathers Golf Club in Lemont.
Think a walkathon for golf where players secure pledges from friends or family for each birdie that their four-person golf scramble team can score.
Unlike most golf outings that have a single designated charity, the Birdies or Better Pledge Drive Golf Outing allows each four-person team to select their own designated charity. Up to four teams from each charity can participate.

100% of the pledge money secured, minus credit card fees, goes directly to the designated charity for that team. Pledges are made online and the winnings are sent directly to the designated charitable group.

The cost to play in the Birdies or Better Pledge Drive Golf Outing is $640 per foursome, which includes golf, food, prizes and more. SMT Events anticipates most of the charitable groups will invest the $640 to give their selected team(s) the opportunity to provide a significant return on investment. How much of a return depends on how well their team plays.

For example, if a four-person team raises a total of $1,000 in pledge money per birdie, and they tally 8 birdies, their charity will receive roughly $8,000. If the charity has four teams registered in the event that post similar results, that charitable group will receive $32,000.

To help incentivize pledges, any individual who pledges $10 or more will receive a $25 gift card to Ultimate Golf and will also be entered into a drawing for one of three Las Vegas or Reno vacations.
"We've been conducting single-charity pledge golf outings for the past few years and the results from these types of outings have always been spectacular" said Mike Tait, owner of SMT Events and a long-time PGA Professional. "The Birdies or Better Pledge event will be the first time we've opened it up to any charitable group that wants to participate."
"We have long-standing relationships with many local and national businesses that we've established over the past decade, so we're able to provide prizes and pledge incentives at no cost to help attract even more participation. It's a win-win for the golfers and their charities. The people who pledge money also get a return on their investment in the form of a free $25 gift card and chance to win of our grand prize drawings."
SMT Events believes this new charity event format could be the future of golf outings in the United States.
"The traditional golf outing has become stale and not as appealing to many golfers and organizations. The pledge outing concept has proven to be quite popular in attracting interest and participation. We feel this event can help many organizations raise funds while providing a fun, new experience for golfers."
Birdies or Better Pledge Drive Golf Outing
Wednesday, August 28, 2019 – 1:30 shotgun start
Ruffled Feathers Golf Club
Lemont, IL
To register call 888-693-4001 x1 or email info@smtgolf.com.
[schema type="event" evtype="SportsEvent" url="https://go.rallyup.com/birdiesorbetter" name="Birdies or Better Pledge Drive Golf Outing" description="The Birdies or Better Pledge Drive Golf Outing that will take place on Wednesday, August 28 at Ruffled Feathers Golf Club in Lemont. " sdate="2019-08-28″ stime="01:30 pm" street="1 Pete Dye Drive" city="Lemont" state="IL" postalcode="60439″ country="US" ]