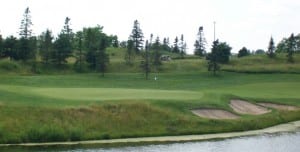 With a lingering downturn in the economy and a deep summer drought, many local Chicago golf courses have been fighting a difficult battle to attract new golfers and retain their current ones. According to a recent report by Crain's Chicago Business, both public and private golf courses in the Chicago area are experiencing trying times that could continue to thin the herd.
According to Crains, local courses Lake Barrington Shores, Chalet Hills Golf Course in Cary, Chapel Hill in McHenry are struggling to survive in this tough economic climate. Some local private clubs that once charged initiation fees of $25,000, such as Turnberry Country Club in Lakewood, also have cut prices to $5,000 and less to assist in building membership.
Increased competition for golfers time has also been a hinderance to the game of golf, which typically requires a time investment of at least four hours to play 18 holes. With children's schedules now tight throughout the summer, it's becoming more difficult for parents to find the time play or practice golf. An increase in popularity of other sports, along with new technologies, has also added to the options potential golfers have for their free time.
"The local marketplace is oversaturated with too many golf courses," says Todd Marsh, general manager of Conway Farms Golf Club in Lake Forest and former president of the Greater Chicago Club Managers Association. "Not all of them are going to make it through this."
Timothy Miles Sr. is CEO of GolfVisions Management in Northlake, which oversees operations at 17 local clubs. "Four of them are bank-owned at the moment," Mr. Miles reports. With tee times at so many courses going begging, players have become practiced at negotiating deals. "Rates are down 25 percent and more since 2005," he says. "A course may advertise a $70 green fee, but most people will end up paying $40 or $45."
As courses are forced to lower their fees to attract golfers, technology has assisted in helping golfers search for the best deals. Online tee time services such as EZLinks.com offer hundreds of tee time specials for Chicago golf courses every day, in addition to a service that allows golfers to name their tee time price. The ease at which golfers can now find courses and deals has certainly assisted in saving time, but how much have those deep discounts cost local Chicago golf courses? In addition, with the increase in popularity of year-round travel sports programs, potential young golfers are finding less time to devote toward learning the game of golf.
Frank Jemsek, who owns Cog Hill Golf & Country Club in Lemont, says his business peaked in 1990 with 170,000 paid rounds. Last year, the club recorded 100,000 rounds despite heavy investment to improve the grounds. "I'm worried about the long-term trend," Mr. Jemsek says. "We have to get more people learning to play the game again."