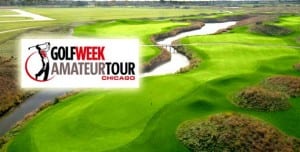 The Chicago Golfweek Amateur Tour recently announced its 2012 tournament schedule, featuring a championship event at Pine Meadow Golf Club in Mundelein. Now entering its third season, the Chicago Golfweek Amateur Tour campaign will begin at Prairie Landing Golf Club in West Chicago on Saturday, April 28th.
The Tour then visits Ruffled Feathers Golf Club in Lemont, home of the DePaul University golf team. Other Chicago golf courses on the schedule for 2012 include Orchard Valley Golf Course, Arthur Hills' masterpiece, Stonewall Orchard Golf Club, Thunderhawk Golf Club and Odyssey Country Club in Tinley Park.
In 2012, The Chicago Golfweek Amateur Tour will visit two private Chicago golf country clubs in successive weeks. Glen Flora Country Club in Waukegan will host the Tour on June 2 and players will test themselves at beautiful Itasca Country Club in Itasca. "We are thrilled to have the opportunity to play some private courses this season" said Tour Director Rob Maguire.
"We are truly excited about the upcoming season, as we believe it will be our best season yet." said Maguire. "Our tournament lineup is impressive; we look forward to visiting some of the best courses the state of Illinois has to offer and are intrigued to see our membership base enjoy these tracks."
Visit the Chicago Golfweek Amateur Tour website for more information or contact Tour Director Rob Maguire at 630-886-3442.
Chicago Golfweek Amateur Tour 2012 Schedule
4/28 – Prairie Landing GC
5/12- Ruffled Feathers GC
6/2 – Glen Flora CC
6/16 – Itasca CC
6/30 & 7/1 – Chicago Open @ Bowes Creek CC & Highlands of Elgin
7/14 & 7/15 – Greystone GC Nashville, TN
7/28 – Orchard Valley GC
8/11 & 8/12 – Chicago Classic @ Stonewall Orchard GC
8/25 – Thunderhawk GC
9/8 – Oydssey CC
9/22 – Chicago Championship @ Pine Meadow GC
10/6 & 10/7 – MichIllni Cup
10/19 – 10/21 Tour Championship – Hilton Head, SC