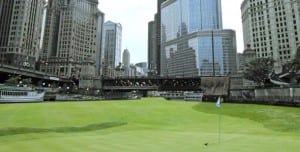 Chicago was recently ranked the number one city for both the amount of public golf and the quality of public golf by Golf Digest in their list of the top cities for golf in the United States. With over 200 high quality public golf courses to choose from, Golf Digest recognized the breadth and depth of Chicago golf.
The magazine included five different factors in their overall ranking. They included climate (average temperature/average number of playable days); cost (average green fees); amount of public courses; quality of courses (reader-rated); and accessibility. Chicago ranked 40th in climate, 32nd in cost and 50th in accessibility. The overall rank for Chicago golf in the Golf Digest survey was 22nd.
The Dallas-Fort Worth golf area was the leader for having both a favorable climate and highly rated public courses. Finishing second was Pittsburgh followed by Cincinnati and Los Angeles. However, no metropolitan area in the United States can rival Chicago for the quantity and quality of public golf. In fact, Chicago is now being considered by many golf travel and business experts as the world's leading city for public golf.