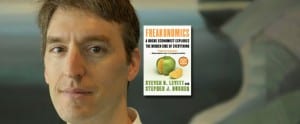 Like many young people who fall in love with the game of golf, all Steven Levitt ever wanted during his youth was to become a professional golfer. But when he got paired against a 13-year-old who drove the ball 40 yards farther, he gave up his dream and turned to economics.
Now a professor of economics at The Univeristy of Chicago, despite not turning pro, Steven Levitt is truly a Chicago golf success story. In 2005 he co-authored the best-selling book Freakonomics and its sequel Superfreakonomics four years later. Levitt was also chosen as one of Time Magazine's "100 People Who Shape Our World" in 2006.
Five years ago, Levitt returned to his first love and discovered a gadget that measured the speed of his club head. He added 50 yards to his drives. "Once I had this mechanism, I experimented," said Levitt. "I would try crazy things that I thought couldn't possibly work. All sorts of things that were the opposite of what felt right turned out to be the best. All of my golf instincts turned out to be off."
"A golf swing is really not complicated compared to mapping what individuals do at firms and the outcomes," he said. "There are so many things going on, including what competitors are doing, what the macro-economy is doing, advertising, and sales people. The beauty of an experiment is trying to cut through all that."
Levitt said he wishes he had known that the 13-year-old he was paired against grew up to become PGA member Tim Herron. "He turned out to be one of the world's greatest golfers, winning three tournaments in his first four years on the tour and making millions of dollars playing golf," Levitt said. "If only I had more information then about who this guy was going to turn out to be, maybe I would have continued playing golf more aggressively."
Click here for the full article.