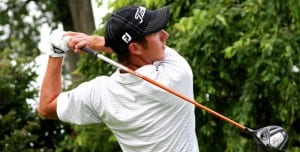 Patrick Cantlay's amazing summer continued for most of the week at North Shore County Club as he looked to earn the prestigious Western Amateur crown. However, his momentum finally ended on Saturday as Columbus, Ohio native Ethan Tracy defeated Cantlay with a putt on the 18th green to win the tournament.
Tracy's victory came on the 50th anniversary of Jack Nicklaus' Western Amateur victory, another Columbus, Ohio-area native. "It's nice to have another Ohio guy win the trophy," said Tracy, a senior at the University of Arkansas. "I've never met Jack, but I passed him a couple of times at the Memorial Tournament."
Tracy happily accepted a tournament program autographed by the Golden Bear himself when it was presented to him by John Lynch, the immediate past president of North Shore and a Western Golf Association director.
Cantlay, who defeated No. 2-ranked Peter Uihlein in Friday's quarterfinals and won his semifinal match 1-up over fellow Southern Californian Jeffrey Kang, said he competed well all week but that in the end his putter let him down.
"I never had any stretches where I felt comfortable over the putter," said Cantlay, the college player of the year who made four cuts on the PGA Tour this summer and placed 21st in the U.S. Open. "It happens. You can't win all the time in golf."
After playing the most grueling tournament in amateur golf, Cantlay was on his way home to Los Alamitos, California, to take some time off before getting ready for the U.S. Amateur August 22-28 at Erin Hills G.C. outside Milwaukee.
Tracy's victory was his first since 2008 when he won the Maryland Collegiate Invitational and represented his best finish since an eight-place showing at this year's Ohio Amateur. He defeated Cheng-Tsung Pan 1-up in the semifinals.
A key moment in the match came on No. 11 when Cantlay made a 45-foot putt for birdie that would have squared the match. But Tracy poured in a 25-foot birdie of his own to maintain his one-hole lead.
"To make a putt like that to halve a hole is big in a match like this," Tracy said.
On the 515-yard 15th, Cantlay hit his drive 30 yards past Tracy and appeared primed to hit the short par 5 in two shots. However, Cantlay's hand slipped, and he didn't hit the ball flush. It wound up in front of the green left, he pitched to about seven feet and missed the birdie putt, allowing Tracy to maintain his lead with his par.
After the two players traded pars on Nos. 16 and 17, Tracy pulled his tee shot deep into the trees to the left of the 18th fairway and had to pitch out while Cantlay bombed his drive into the fairway to the150-yard mark.
Tracy's third wound up 10-feet left of the hole while Cantlay had about 12 feet left for birdie. Cantlay left his putt on the right lip before Tracy drained his for the win.
As they have done all summer, Tracy and his father, Dan, who also caddied for his son, lived in their camper, at a KOA Campground approximately an hour from the course, Tracy said. That daily commute made his 141-hole marathon victory at the Western Amateur even more of an endurance test.