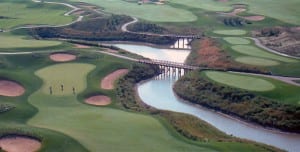 Don't miss the 4th Annual Golf Instruction Open House on Tuesday Mar 8, 2011 at 6:00 PM at Prairie Landing Golf Club. Start your season off right by getting an improvement plan for your swing, body and putting stroke. Join PGA Director of Instruction Brian King and PGA Teaching Professional Chad Johansen for this free evening of golf information.
The evening includes:
Brian King, PGA Director of Instruction at Prairie Landing Golf Club. Brian will discuss ways to improve your distance. Learn about the common denominators of the longest hitters on the PGA Tour and how you can help your game.
Chad Johansen, PGA Teaching Professional and inventor of The Perfect Putting Aid. Chad will talk about his invention, which is a unique, simple putting training aid that is becoming popular amongst the PGA Tour players.
Rules of Golf Corner with Jim Larson, PGA Head Golf Professional at Prairie Landing Golf Club. Jim will be available to answer any rules questions and correct common rules mistakes that many players encounter during a round.
Mike Schroeder, Nike Golf Apparel. Mike will have some of the new 2011 Nike Golf Apparel collection to help you get your golf season started in style.
Chiro One Wellness centers will be administering free back checks for those interested.
Those in attendence will be entered to win a free lesson and other raffle prizes.
Click here to reserve your spot for this popular event.
Prairie Landing Golf Club
2325 Longest Drive
West Chicago, IL 60185
Phone: 630-208-7600