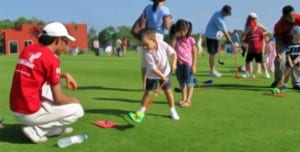 One of the things that we really want to do, especially at a young age, is get kids to equate the game of golf with having fun. As such, we don't really want to put too much pressure on them to hit the perfect golf shot or have the perfect swing. We want to keep them safe while they are down there on the range. We want to teach them the basics, but it's kind of hard to hold a 4 year olds attention to get them into the proper grip, the proper stance, the proper backswing and follow-through time after time.
What I want to pass along to the people who are bringing these kids out to the golf range; the grandparents; the parents; the aunts; and the uncles is that there are things that kids are going to naturally do, like develop a fascination with the club washers. Develop a fascination with the filling divots and throwing sand all over the driving range. We encourage that sort of activity; anything that the kids can do that are going to keep their interest and get them to equate having fun at the golf course-we want to encourage that sort of behavior.
When the kids are doing that sort of stuff, there are still things that you can teach them. You can teach them the terminology, like a divot; and course etiquette like how to fill a divot and how to keep your equipment clean and how to play these simple little games in and around the golf course; even if they are not actually swinging at golf balls. Let them have fun and still teach them about the history, the tradition, and the etiquette of the game that I think are so vital.
So what we've done on our blog, and on our web site, and Facebook page is we've kind of communicated that information to the parents and the grandparents to let them know that it's okay if your kids aren't really interested in hitting a hundred golf balls while they are down there. But take some of the opportunities to teach them about the game while they are kind of satisfying their own curiosity and fascination.
From the Podcast – Teaching Kids How to Enjoy the Game of Golf
With Brandon Evans, General Manager and Head Golf Professional at the Village Greens of Woodridge