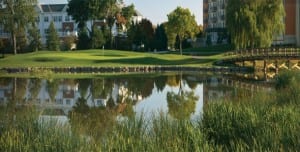 The 2012 Chicago golf season has been quite successful for many local golf courses who've benefitted from the mild winter and spring. One local course has enjoyed even more success as Hoffman Estates golf course Bridges of Poplar Creek Country Club was recently named the 2012 "Renovation of the Year" for public courses nationwide awarded by Golf, Inc. Magazine.
The 35-year old Killian-Nugent design was modernized beginning in 2010 and has been earning tremendous reviews from golfers throughout the Chicagoland area. The golf course renovation included multiple new tee boxes, along with redesigned fairways and bunkers and new lakes. The changes to Bridges of Poplar Creek Country Club have made the course a challenging yet fair layout even more playable and enjoyable for golfers of skill levels.
"We've received a lot of compliments on the renovation, our golfers are very pleased," said Brian Bechtold, general manager of Bridges of Poplar Creek Country Club. "We're honored to receive this national recognition."
Another new addition to Bridges of Poplar Creek Country Club is an expanded golf learning and practice center, including 55 driving range stations lighted for night play. PGA instruction is conducted for golfers of all abilities and ages in private, semi-private and group formats. Precision club-fitting with a "FlightScope" launch monitor, which tests a golfers' swing and bio mechanics testing is also available within the learning center.
A finishing signature to Bridges of Poplar Creek Country Club is called "Final Charge", which is the challenging trio of final holes. The difficult holes 16, 17 and 18 are routed in the shape of a lightning bolt, providing a solid test of golf at the end of the round.
The Bridges of Poplar Creek Country Club is managed by the Hoffman Estates Park District, which does a terrific job of maintaining the golf course at private course levels. Now that renovations are complete, the course is quickly becoming one of the top facilities for golf outings in the Chicago area.
1400 Poplar Creek Drive
Hoffman Estates
(847) 884-0219