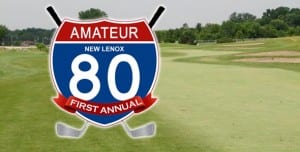 The Sanctuary Golf Course in New Lenox has announced plans for the inaugural I-80 Amateur Golf Tournament. The special event will be a two-day competition, open to all amateur golfers. The first round will be contested on May 14 beginning at 7:30am and tee-times will be assigned by random draw. There will be no cut and final round pairings will be assigned by position on the leaderboard after first round results.
The entry fee for the I-80 Amateur will be $140 per person and includes: two tournament Green Fees (cart rental $15/ round), tee-gift of one dozen ProV1's or Callaway Tour balls, range balls before each round, lunch after first round, and cash payouts – see list below.
Format for the event will be stroke play- governed by the USGA Rules of Golf and The Sanctuary's Tournament Committee. Distance measuring devices may be used; however, the use of devices that measure conditions other than yardage (i.e. wind or slope) are not permitted. Those who keep their handicap at The Sanctuary will be eligible to compete in a Net division in addition to the Gross Division.
Payouts will be in the form of gift cards (based upon full field of 100 players): 1st-$750, 2nd-$700, 3rd-$675, 4th-$650, 5th-$625, 6th-$$600, 7th-$$575, 8th-$550, 9th-$525, 10th-$500, 11th-$450, 12th-$400, 13th-$350, 14th-$325, 15th-$300, 16th-20th:$200, 21st-30th: $100, 31st-40th:$50
I-80 Amateur Golf Tournament
May 14th-15th 2011
The Sanctuary Golf Course
485 N Marley Rd
New Lenox, IL
(815) 462-4653