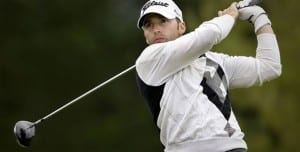 Congratulations to Chicago golf product Joe Affrunti, who finished in the top 25 on the Nationwide Tour, earning 2011 membership on the PGA Tour. Affrunti hit a 115-yard wedge from a divot to 10 feet for a birdie in the final round of the Nationwide Tour Championship to earn his Tour card.
In 2011, Affrunti will join Steve Stricker, Luke Donald, Kevin Streelman, Mark Wilson and D.A. Points as PGA members with Illinois backgrounds. Streelman joins Affrunti as an area-bred player. Like Affrunti, Stricker and Points played collegiately at Illinois, and Donald did so at Northwestern. Wilson took up a residence here more recently.
Affrunti went into the last event of the Nationwide season in 34th place on the money list. He needed to crack the top 25 to advance to the PGA in 2011.
"It was just a matter of making some putts," Affrunti said. "After a 66 in the first round, I figured I could play solid from there out and I'd have a good week."
He did that, but things got scary on the back nine Sunday at the Daniel Island course in Charleston, S.C. Affrunti put a ball in the water on the 16th hole and had to scramble to salvage a bogey. Then he rolled in a 12-foot downhill birdie putt on the 18th to finish alone in third and earn enough money to climb into the Nationwide's top 25.
He ended the season with $229,433 in winnings, good for 22nd place on the money list — not bad for a golfer who had played in just one Nationwide event before 2010 and had missed the cut in all six PGA Tour events he entered via qualifiers.
Click here for the full article.