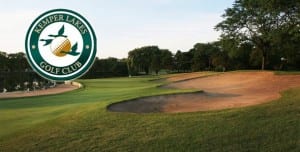 Kemper Lakes Golf Club recently announced that Libertyville-based golf course architect Rick Jacobson will renovate the prestigious 18-hole golf course located on Old McHenry Road in Kildeer. The course opened in 1979 as an upscale public course. In 2003 the course was sold to Crown Golf Properties, which began a four-year changeover from public to private golf.
Kemper Lakes originally was designed by Chicago area golf course architects Dick Nugent and his partner, the late Ken Killian. Jacobson Golf Course Design, Inc. will work to develop a master plan will preserve the stature and overall aesthetic appeal of the 32-year-old championship track.
"Kemper Lakes is pleased to announce that Rick Jacobson and his team will be working on behalf of our members to make long term improvements to a number of very important aspects of the golf course," said Kemper Lakes general manager Janet Dobson. "Our first priority for the course will be to renovate the bunkers, but obviously we want that done within the context of a Master Plan. In undertaking this renovation our goal is to achieve long-term management and operational efficiencies without sacrificing the strength and character of the existing design. We want to continue to provide a wonderful golf experience for our members while preserving a tour quality golf course. Based on his strong and extensive track record, we think Rick is just the person to lead that effort."
"We are extremely excited and tremendously proud to be working on a project aimed at revitalizing one of the best-known championship golf courses in the Chicago area," said Jacobson. "In its relatively brief history, Kemper Lakes has hosted a major championship, a number of PGA Tour events as well as prominent national amateur, state and regional events."
The bunker project will contain changes that will be obvious to every day golfers – such as the renovation and re-positioning of bunkers – but many of the contemplated improvements likely will not be noticed by golfers. The project will look to achieve improvements in subsurface course and bunker drainage to enhance playability as well as to improve consistency of sand in the bunkers.
Now celebrating his 20th year in business, Jacobson has long been a prolific and highly respected renovator of golf courses, including such classics as North Shore CC in Glenview, Ill. – site of the 2011 Western Amateur championship – Bob O' Link GC in Highland Park, Ill.; Oak Park CC in River Grove, Ill.; Des Moines G&CC, in West Des Moines, Ia., in preparation for the 1999 U.S. Senior Open; Cantigny Golf in Wheaton, Ill., in preparation for the U.S. Public Links; and Sunset Ridge CC in Northfield, Ill., Golf Inc. Magazine Renovation of the Year for 2006.
Jacobson also has designed a number of highly-praised courses across the United States – the most recent Bowes Creek CC in Elgin, Ill. – and in recent years has become one of the more prolific American golf course architects working in China.
For more information visit the Kemper Lakes Golf Club website and Jacobson Golf Course Design.
Kemper Lakes Golf Club
24000 N Old McHenry Rd
Kildeer, IL 60047