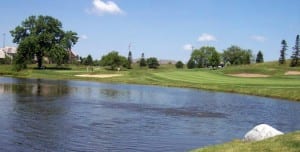 The weather and the economy took a hefty toll this year on many Chicago golf courses. Unseasonably wet conditions across the Chicagoland area led to widespread turfgrass problems that plagued many courses, even the greens at Cog Hill for the BMW Championship in September.
However, despite these trying conditions, there were a few success stories. A number of golf courses in Lake County and Cook County were able to maintain or even grow their customer base.
At Hawthorn Woods Country Club, which features a 7,100-yard course designed by Arnold Palmer, about 100 golf members have been added since last year. At Highland Park Country Club and at The Glen Club in Glenview, corporate outings increased in 2010 from the previous year despite continued company cutbacks.
A thread unifying the success of these courses is KemperSports. Based in Northbrook, KemperSports has more than $1 billion in assets and has grown its client base by 50 percent in the last three years, including adding Turnberry Country Club near Chicago this year, according to Golf Inc. magazine. It is the fifth-largest golf management company in the nation, armed with a portfolio exceeding 100 courses, about 20 percent of which are private clubs.
While many courses have cut costs to try to survive as the economy struggles, those run by KemperSports have followed a different philosophy.
"We take a longer-term view," said Steve Skinner, a Lake Forest resident who is KemperSports chief executive officer. "We don't want to compromise (by cutting customer service) in the short run so that in the long run, we'll benefit."
Click here for the full article.