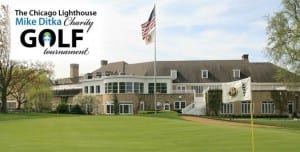 Play golf on July 15 with a Chicago sports legend for a great cause on one of the most renowned private courses in the Chicago area. The Chicago Lighthouse will proudly host a charity golf tournament headlined by football legend Mike Ditka on Monday, July 15th at North Shore Country Club in Glenview. The Club has hosted the US Open, US Amateur and the 2013 PGA Encompass Championship.
Mike Ditka coached the Bears for 11 years, leading the team to their first and only Super Bowl championship in 1985. Mike and Tom Flores are the only two people to win an NFL title as a player, an assistant coach, and a head coach. Coach Ditka was the only individual to participate in both of the last two Chicago Bears' championships, as a player in 1963 and as head coach in 1985.
Coach Ditka will be joined by numerous celebrity golfers, all in support of the The Chicago Lighthouse Vision Rehabilitation Center in Glenview serving the northern and northwest suburbs. For over 100 years, the Lighthouse has been a national trendsetter in offering far-reaching programs that have opened the doors of opportunity for people who are blind or visually impaired. In addition to offering a wide array of educational and training programs, The Chicago Lighthouse Vision Rehabilitation Center offers extensive job counseling and placement services.
Tickets for The Chicago Lighthouse Mike Ditka Charity Golf Tournament are available as individual, foursome or for just the cocktail reception, which will be held after the golf event. Ticket prices are $600 for individual, $2,400 for a foursome and $175 to attend the cocktail reception. For additional information on tickets, sponsorship and underwriting opportunities, contact Chicago Lighthouse special events at [email protected] or call 312-997-3679.
Mike Ditka Charity Golf Tournament
July 15th, 2013
North Shore Country Club
1340 Glenview Road
Glenview, IL 60025
Title: Mike Ditka Charity Golf Tournament
Location: Glenview
Link out: Click here
Description:
Date: 2013-07-15