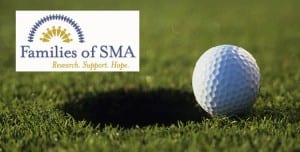 Register today to participate in the Drive to Cure Spinal Muscular Atrophy on Saturday, May 21st at Gleneagles Country Club in Lemont. This four-person scramble, shotgun start will help provide much needed dollars for continuing research to discover a treatment and a cure for Spinal Muscular Atrophy.
Spinal Muscular Atrophy is the number one genetic killer of children under the age of two. SMA is an inherited and often fatal disease that destroys the nerves controlling voluntary muscle movement, which affects crawling, walking, head and neck control, and even swallowing. Two new-born children are affected each day in the United States, approximately 1 in 6,000 live births. One in every 40 people carries the gene that causes SMA, which means there are more than seven million carriers in the United States alone. Currently there is no treatment or cure.
Families of SMA is an international nonprofit organization founded in 1984 with the mission to find a treatment and cure for SMA. FSMA is made up of more than 65,000 members and supporters and has funded more than $50 Million in leading research programs since its inception.
Click here to register or for more information.
Drive to Cure SMA in Honor of Ryan
Saturday, May 21, 2011
11:30 AM – 7:00 PM
Gleneagles Country Club
13070 McCarthy Road
Lemont, IL
(630) 257-5466
Your Team's $500 includes:
18 Holes of Golf, Cart, Dawg at the Turn, Banquet Ticket, Hole Events, Silent Auction, Raffle, 50/50 Prize and a lot of FUN!
Individual Registration is $125