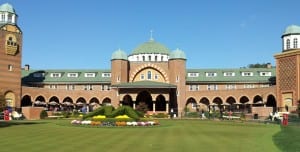 According to a recent report in the Daily Herald, the unmarked Lombard police car that inadvertently helped the Europeans win the Ryder Cup could be heading to the auction block. The police vehicle was used by Lombard Deputy Police Chief Patrick Rollins to hurry European team member Rory McIlroy to the first tee at Medinah Country Club with minutes to spare after McIlroy miscalculated the local time zone.
The Irish star used his good fortune to defeat Keegan Bradley by a 2-and-1 count, helping lead the Europeans to a ground-breaking Sunday comeback. The final score was 14 1/2 to 13 1/2 — matching the largest Sunday comeback in Ryder Cup history.
"I was just doing my duty," said Chief Rollins back on September 30th. "It's the most worried I've ever been," McIlroy said. "If I was playing for myself, I'd be fine. It's my own fault. But to let down all the boys and vice captains and captain — I would never have forgiven myself."
The Village of Lombard is looking to sell the vehicle online to potentially capitalize on the popularity of the vehicle with golf fans. Said Village manager David Hulseberg, "Since it's drawing so much attention, we figure we have nothing to lose by putting it out there for any European or anyone who would like to buy the car and do whatever they would like with it."
Before the car can be sold and a replacement can be purchased, Village trustees needed to give their approval, which occurred last week. Deputy Police Chief Rollins will receive a new Ford Fusion Hybrid to replace the McIlroy car some time in mid-January.
The next Ryder Cup matches will take place at Gleneagles in Scotland. Golf legend Tom Watson was recently announced as the captain for the US Team. Watson will be 65 when the 2014 Ryder Cup is played, making him the oldest captain in U.S. history. Watson is the last US Ryder Cup captain to win on foreign soil, defeating Europe 15-13 at the Belfry in England in 1993.