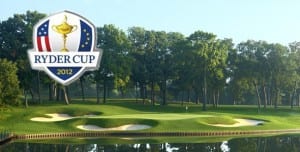 How would you like to enjoy the Ryder Cup in an exclusive chalet along the fairways at Medinah Country Club? According to a recent report by Crain's Chicago Business, to enjoy such an experience in the exclusive Ryder Cup suites, you better have very deep pockets, or well-connected friends.
Corporate hospitality at the biggest sporting event in Chicago history is huge business, attracting more than 350 corporations from around the world. These companies are purchasing access to one of the 76 chalets on the golf course for prices between $237,000 and $1 million. Ryder Cup organizers are also offering smaller tents starting at $55,000 for a shaded table for 10. This biennial event is jointly administered by the PGA of America and the PGA European Tour.
More than 40,000 specatators are expected each day of the 2012 Ryder Cup, which begins with practice rounds on Tuesday, September 25. The 39th Ryder Cup matches officially begin on Friday, September 28 and run through Sunday, September 30. A number of Ryder Cup special events started earlier in the week, helping build anticipation for Friday to a fever pitch.
According to the Crain's report, Ryder Cup hospitality packages include a lunch buffet, snacks and desserts as well as an open bar for six hours a day catered by Chicago's own Levy Restaurants. Inside the tents, most companies are spending between $20,000 to $40,000 for upgrades such as larger menus and longer hours. Other upgrades purchased include custom décor, gifts and even guest speakers for local educational seminars.
Entertaining clients at golf's biggest team event will actually cost more than leasing a luxury box suite at most other Chicago sporting events. On a per-day basis, a 100-person chalet works out to a minimum of $774 a person. A seat in the United Center's BMO Harris suite at a Bulls or Blackhawks game only costs $550.
39th Ryder Cup Matches
September 25-30, 2012
Medinah Country Club
6N001 Medinah Road
Medinah, IL
Tickets: Sold Out