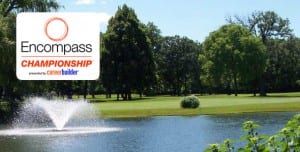 The Encompass Championship presented by CareerBuilder is bringing the Champions Tour back to Chicago this June 17-23 at North Shore Country Club in Glenview. The event will feature a Pro-Am format where Champions Tour professionals partner with amateurs and celebrities on Friday and Saturday for an event-within-the-event competition. Player commitments so far include Michael Allen, Fred Funk, Mark Calcavecchia, Jay Haas and John Cook. In addition some of the top players on the all-time money list including Hale Irwin, Nick Price, Mark O'Meara, Craig Stadler and Rocco Mediate are scheduled to compete.
The field for The Encompass Championship presented by CareerBuilder will include 81 Champions Tour professionals, who will also compete in a traditional 54-hole, stroke-play format for the individual title and prize money. Proceeds from the tournament will benefit local charities.
Tickets to the tournament are currently on sale and can be purchased by visiting The Encompass Championship website. Daily tickets are available for $20 and a weekly book of six tickets costs $90. Champions Club tickets are also available which allow access to an exclusive air-conditioned hospitality tent on the 18th hole at North Shore Country Club which includes TV, food and full service beverage. Children age 18 and under are admitted free to The Encompass Championship presented by CareerBuilder all week.
"We are excited CareerBuilder recognizes the energy and the market value of joining Encompass Insurance, the Champions Tour and North Shore Country Club's efforts to bring a first-class Champions Tour event to this region of the country," said Tournament Director Mike Galeski. Added Encompass President Tom Ealy, "We're thrilled to have another hometown company help us host a tournament that has unique appeal to Chicago's passionate golf fans, the Tour's pros, the celebrities and other amateurs who'll play in our tournament, and our independent insurance agents and their customers.
To help conduct the event, approximately 1,100 volunteers will be needed on the grounds at North Shore Country Club. To get involved and share your time for a worthy cause, please visit the The Encompass Championship website and click on the volunteer tab in the upper right corner.
North Shore Country Club in Glenview is a private club that was founded in 1917 and was designed by legendary English architect Harry Colt. In 1933, it hosted the U.S. Open that was won by Johnny Goodman. It has also hosted the Western Open on one occasion and the U.S. Amateur on two occasions.
The Encompass Championship presented by CareerBuilder
June 17-23, 2013
North Shore Country Club
1340 Glenview Road
Glenview, IL 60025