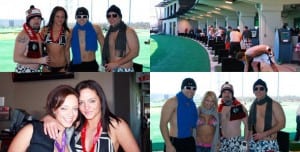 Get ready for the golf party of the winter as TopGolf Chicago hosts Suits and Boots on Saturday, January 28, 2012 from 6:00 PM to 9:00 PM. Join the fun and play golf with your friends during the middle of Chicago winter. At TopGolf Suits and Boots, beachwear is required to participate (no exceptions) and snow boots might be a necessity given the temperatures.
Thankfully, TopGolf has heated and covered bays so you can enjoy the game without freezing and play golf all year long. A portion of all proceeds from Suits and Boots goes to the Lakeview Polar Bear Club, which benefits local families in need.
Participate in this event and you'll qualify for the chance to win a winter getaway for two. You'll also enjoy Corona specials and a variety of other raffled prizes throughout the event.
TopGolf Suits and Boots
Saturday, January 28, 2012
Purchase tickets at the TopGolf Chicago website.
TopGolf Chicago
699 W. Thorndale Avenue
Wood Dale, IL 60191