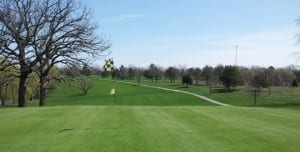 Located in far south suburban Crete, the aptly named Tuckaway Golf Club might be difficult to find, but is definitely worth the drive. Playing roughly 6,200 yards from the back tees, the 18-hole, par 71 Tuckaway layout is a public facility that provides a welcoming atmosphere along with a beautiful, yet challenging golf course. Designed in 1960 by John Ellis, the course features sloping fairways that wind through tall oak trees and gorgeous pines.
However, the small, crowned greens could be considered Tuckaway's best defense. Most of the holes required an elevated shot with a high degree of loft or spin to hold the small greens. This is not a course where golfers can make a living hitting punch and run shots.
In addition to the crowned greens, the Tuckaway terrain consists of numerous elevation changes that provide a need for distance and accuracy off the tee. Although the fairways provide ample room to flight your tee shots, the premium on this course is typically the second shot into these smallish greens. Consideration should be given on each tee as to which side of the fairway will provide the best opportunity to hold the green with an approach shot.
Although the elevation changes may add an additional strategical element of concern, they also provide a beautiful window into the gorgeous vistas of the rolling hills of Crete. Make no mistake, this is gorgeous country that should be enjoyed just as much as the golf itself.
One highlight of Tuckaway Golf Club is the 361-yard par four 10th hole that features an elevated tee shot into a sloped fairway that doglegs to the right. Choose your landing spot carefully as the second shot on this hole can be quite a challenge. Like many of the holes at Tuckaway, the 10th green is on a raised surface, requiring a soft approach shot. In addition, the green slopes significantly to the left, requiring all approaches to be wide right as the ball will funnel directly down the hill. Many balls hit the middle of the green and find their way down the hill on the left side, requiring a difficult, lofted shot towards the pin on the short side.
Tuckaway Golf Club in Crete is located approximately 40 miles south of Chicago, however, it's definitely worth the trip. Its beautiful environent, challenging course and friendly staff will make you feel at home and happy to be in the country.
Tuckaway Golf Club
27641 S. Stoney Island Avenue
Crete, IL 60417
708.946.2259