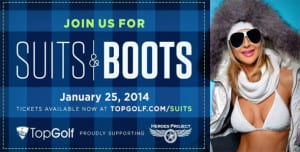 The winter charity golf party of the year, Suits and Boots, returns to TopGolf in Wood Dale on Saturday, January 25, 2014 supporting The Heroes Project. Join the fun and play golf with your friends during the middle of winter at the spectacular TopGolf facility in the northwest suburbs. Beachwear is required to participate in Suits and Boots(no exceptions) and snow boots might be needed – depending on the temperature.
Prizes include a Club Med getaway for two as well as round-trip airline tickets.
Golfers can wear bathing suits (one or two piece), board shorts, speedos (if you dare) and bikinis. Acceptable boots include winter boots, military boots or even cowboy boys. Players who are not properly dressed are welcome to play TopGolf, but they will not be eligible for the grand prize drawing.
Thankfully, TopGolf has warm hitting bays so you can enjoy the game without freezing and play golf all year long. It's also for a good cause as a portion of all proceeds from TopGolf Suits and Boots will go to The Heroes Project.
Be sure to reserve your spot for this fun and unique event before tickets sell out. Single tickets for $25 include a Suits & Boots T-shirt, a donation to Heroes Project, limited-edition swag, access to drink specials and chances to win over $2,500 in prizes. You can purchase tickets online up until 18 hours before the event.
TopGolf Suits and Boots
Saturday, January 25, 2014
TopGolf Chicago
699 W. Thorndale Avenue
Wood Dale, IL 60191
Title: TopGolf Suits & Boots
Location: Wood Dale
Link out: Click here
Date: 2014-01-25