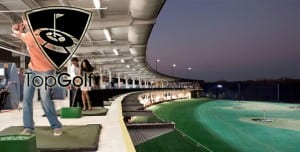 This is the last in a three-part interview with Matt Vinge who is the Director of Golf Instruction at TopGolf Chicago which is located west of O'Hare Airport in Wood Dale. Matt has over ten years of experience in the golf industry as a teaching professional and golf club fitting expert. He has also been one of the headline speakers at the Chicago Golf Show for the past couple of years. TopGolf Chicago is a revolutionary sports and entertainment complex that combines golf with great food and a fun environment 365 days a year. You can learn more about Matt and TopGolf at www.TopGolf.com.
Chicago Golf Report – So then let's get into SAM Puttlab because that's really an eye-opening piece of technology that you have at TopGolf in Wood Dale. I was thinking that working with SAM Puttlab is something that everybody could do during winter. Talk a little bit about what SAM is and what you do at TopGolf to help golfers improve their putting.
Matt Vinge – Well, SAM is a great tool like you said. The SAM Puttlab is a putting analyzer that measures the motion of the putting stroke. Tiger Woods uses it quite a bit as far as working on his putting.
It's a great tool to work on stuff over the winter. Along with the Trackman, they qualify exactly what you need to work on, as far as your putting stroke goes because it gets measured versus over 100 different tour professionals. That's kind of a good baseline to let you know how you should be setting up to the ball. We also help you with golf club fitting so you know exactly what you're working with.
Chicago Golf Report – As far as bang for the buck goes, I find it hard to imagine that any kind of tool out there would help you cut strokes quicker than focusing on your putting and using SAM Puttlab.
Matt Vinge – Oh, no doubt about it, you are exactly right. Just think about it like the average golfer. They can get to the green within 50 yards most of the time on an average par 4. There is no doubt that the quickest way to lower your golf score is to improve your ability to get up and down within those 50 yards.
Chicago Golf Report – What kind of programs does Top Golf offer to youth golfers to help expose them to the game and kind of take them to a higher level of golf?
Matt Vinge – We have a couple programs for junior golfers. One program is where basically we have different levels of accomplishment. The program is once a week for 6 weeks, or you can do unlimited weeks for $125 per month. They learn the grip, the stance and a proper golf swing. In the next level, we will make sure that you know how to drive the golf ball and a proper way of putting.
We also have program called junior summer camp. It's from 9-1PM, Monday through Friday and covers every aspect – from grip, stance, swing – everything you do on the golf course. We do a lot of putting as well.
It's a good way to have fun while learning things. It's a fun environment to do learning because we have so many different things available here at TopGolf, it keeps the kids interested.
Click here for the second part of this interview.
TopGolf Chicago
699 W Thorndale Ave
Wood Dale, IL 60191
(630) 595-4653