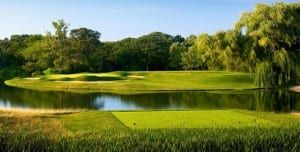 With two PGA Championships, two U.S. Open Championships and the 1997 U.S. Senior Open, Olympia Fields Country Club in no stranger to hosting prestigous golf events. The renowned country club will get another shot on September 24 and 25 as it hosts the 2012 Junior Ryder Cup. Days before Davis Love III and José María Olazábal's team will battle at Medinah Country Club in Chicago's western suburbs, teams of 12 junior golfers from the United States and Europe in the south suburbs on the Olympia Fields South Course.
The Junior Ryder Cup competition features one day of six foursome matches (three boys' matches and three girls' matches) in the morning, same day of six mixed four-ball matches in the afternoon and one final day of singles matches involving all 12 members of each team.
"Our staff and members of the club could not be happier and more proud that we are able to host the Junior Ryder Cup this year," said Brian Morrison, the PGA Director of Golf at Olympia Fields. "It will be exciting to watch these boys and girls from the United States and Europe, who represent the future of our great game. We at Olympia Fields want to be good golf citizens and love to host amateur events. We want the best of the best in the amateur game to play at our club and to get to host this event is really special."
Participants in the 2012 Junior Ryder Cup will also play a "Friendship" Match on September 26, two days before the 39th Ryder Cup matches at Medinah Country Club. The match will feature a combined mixed four-ball, with six groupings of four players that includes one girl and one boy from both Europe and the United States. The teams will play a composite course of ten total holes, blending both front-nine and back-nine holes.
Olympia Fields Country Club will also host the 2015 US Amateur Championship and hosts an annual collegiate event, the Olympia Fields/Illini Invitational, as well as the 2011 U.S. Girls' Junior Championship. With two premier 18-hole golf courses, Olympia Fields has proven to be an elite golf facility, capable of hosting major professional and amateur events.
2012 Junior Ryder Cup
September 24-25
Olympia Fields Country Club
2800 Country Club Drive
Olympia Fields, IL 60461