Bitter cold and snow are a fact of life for Chicago golfers, who now have more options than ever when looking to keep their golf swing throughout the winter. One popular option is the indoor golf simulator. ChicagoGolfReport.com is proud to present the most comprehensive list ever compiled of winter golf options in Chicago, including indoor golf facilities, golf domes, golf simulators and heated golf driving ranges. Some indoor golf courses even offer lessons to those who are new to golfing with their own Iron Set For Beginners, so they have a feel of the game. Just because it's cold, doesn't mean it's not golf season in Chicago. There is no better time to put on a warm golf hat and improve your golf game than during winter in Chicago.
Indoor Golf Facilities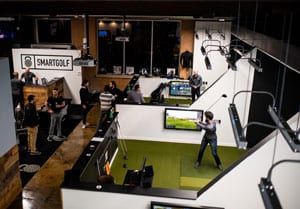 1452 W Willow St
Chicago, IL 60642
(561) 846-1667
SMART Golf & Fitness Instruction is located at 1452 W. Willow St. in Chicago. They teach and train Chicago area golfers who are looking to take their games to the next level. Their facility offers golf simulators and golf training equipment.
SMART Golf & Fitness Instruction offers multiple membership plans including monthly, semi-annual and annual options. The membership process begins with a clubhouse tour and initial performance assessment.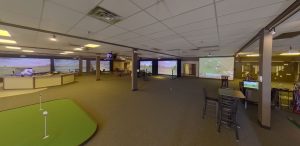 367 Illinois Route 59
Aurora, IL 60504
(630) 486-1977
Located at Route 59 and Ogden in Aurora, Smash Factor Indoor Golf offers 8 indoor golf simulators that use the latest technology to provide you with the most realistic course views, club and ball data.
1380 Busch Parkway
Buffalo Grove, IL 60089
224-676-0692
WJ Golf is an indoor golf facility located in Buffalo Grove, Illinois. The facility offers state of the art simulators for swing analysis and true golf play with changing turfs to simulate bunker shots and rough shots. Learn how Titleist Pro V1 and Pro V1x golf balls with Radar Capture Technology (RCT) were designed to help improve the reliability of your performance data when using a simulator.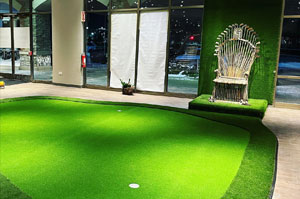 3041 Butterfield Rd
Oak Brook, IL 60523
(630) 303-9454
Located at 3041 Butterfield Road in Oak Brook, Game of Irons features 18,000 square feet of space and 16 golf simulator bays utilizing the newest technology in golf simulation to sharpen your golf club distance control. Play 18 holes at Pebble Beach while enjoying craft cocktails and amazing food.
609 North Dearborn
Chicago, Illinois
(312) 872-4988
10,000-square foot space features 12 Full Swing simulators, a Trackman lesson studio, lessons with PGA teaching professionals, practice time, leagues, club storage, shower facilities, and complimentary clubs to use. Also available is a full bar, food menu, ping pong, pool, widescreen TVs, and NFL RedZone.
108 North State Street
Chicago, Illinois
(312) 895-3041
Five Iron Iron Golf Chicago in The Loop offers 12 Trackman simulators, a putting area, practice time, leagues, club storage, shower facilities, and complimentary clubs to use.
Book online on the Five Iron Golf website.
12317 South Harlem Avenue
Palos Heights, Illinois
The Haven Indoor Golf in Palos Heights features true-to-life golf simulators with professional-grade launch monitors in four separate golfing bays. Choose your golf destination from over 50 world-class courses including The Old Course (St. Andrews), Pebble Beach and many more.
943 Rawson Bridge Rd
Cary, IL
(847) 639-0666
Play over 80 different golf courses, or use practice mode with shot analysis. Bundle packages available.
Simulator Rate
15 minutes $10/hr
30 minutes $20/hr
60 minutes $35/hr
351 North Green Bay Road
Zion, IL
(847) 872-2080
Simulators are rented on an hourly basis regardless of the number of players. Allow 1 hour per player per 18 holes. For example, book 4 hours for 4 players to play 18 holes.
Full Swing Simulator
Weekday $30/hr
Weekend $40/hr
Trackman Simulator
Weekday $40/hr
Weekend $50/hr
Call 847-872-2080 to reserve your time or contact aparkes@zionparkdistrict.org for further information.
3600 N. Recreation Drive (Lake Shore Drive)
Chicago, IL
(312) 742-7930
Play the indoor HD Golf Simulator and choose from 60 world-renowned championship golf courses in the comfort of their newly renovated bar & lounge. Play with your own clubs. Rentals also available. Call to reserve times.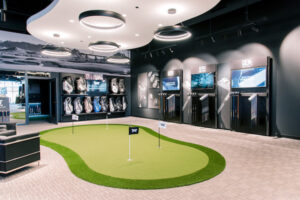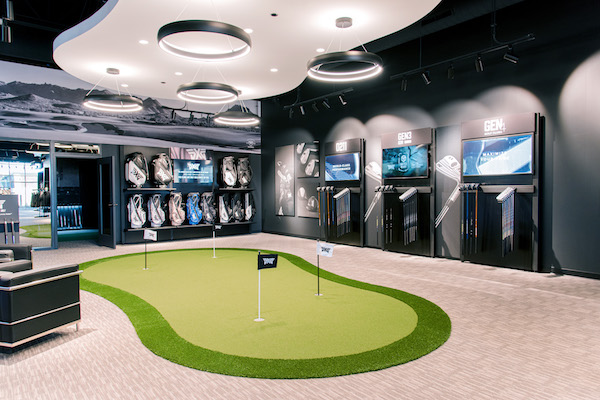 17W705 E Roosevelt Road
Oakbrook Terrace, IL 60181
(312) 896-0900
The 8,455 square-foot facility features three state-of-the-art fitting bays equipped with TrackMan technology as well as a 430 square-foot putter fitting studio and a 185 square-foot practice putting green. PXG Oak Brook also offers an expansive retail showroom featuring PXG sport fashion apparel and accessories.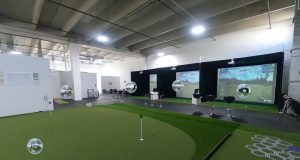 731 N 17th Street
St. Charles, IL 60174
(574) 849-2800
Mike's Golf Center is a year-round golf instruction facility in St. Charles, Illinois, featuring 8 state of the art simulators and a 1,000 square foot short game area. Mike's Golf Center also offers instruction for both adults and juniors.
1501 Busch Parkway
Buffalo Grove, IL
(847) 229-0292
Sky Fitness Center features a state-of-the-art indoor golf facility including a golf simulator and private instruction, as well as hourly rates for club members and guests. The simulator is a Trackman Pro, which measures the full trajectory of any golf shot, from 6-foot pitches to 400-yard drives, pinpointing the landing position with an accuracy of 1 foot at 100 yards.
810 Village Center Drive
Burr Ridge, IL
(847) 652-3293
Elevation Golf is headquartered at 810 Village Center Drive in Burr Ridge and offers golf simulators. The simulators are available for rental and golf instruction and TPI golf fitness training are also available.
291 Northfield Road
Northfield, Illinois
(847) 386-9150
Power of the Golf Ball offers Golfzon simulators as well as 1,500 square feet of short game improvement area. The facility includes three separate entities: a golf practice and instruction center; a club fitting studio, and a golf-specific physical training area using 3D biometrics to understand and improve body movements relating to the golf swing.
1600 W. 16th Street
Ste. T14
Oak Brook, IL 60523
(630) 572-9700
AthletiCo's Golf Performance Center, located in the Oaks of Oak Brook Center, houses a 10,000 square foot facility that includes a golf simulator as well as indoor putting and short game greens as well as five hitting bays for year-round full-swing training. Call to reserve use of the golf simulator.
401 N Roselle Rd
Schaumburg, IL 60194
847-885-9000
Schaumburg Golf Club's Golf Learning Center features three state-of-the-art golf simulators powered by 3Trak ©, aboutGolf's three-dimensional, high-speed camera and tracking system. The simulators give golfers an opportunity to play more than 40 world-class courses, including Pebble Beach and TPC Sawgrass. Each simulator accommodates up to four golfers at a time.
For those taking lessons, swing analysis tools, including multi-angle video recording and a weight measurement system are available. With 19 driving range options, the simulators also are great for practice.
The Golf Learning Center also offers club fitting for Titleist and Callaway golf clubs. Cost is $35 per hour for up to four golfers per bay. Reservations are recommended and can be made up to one week in advance.
Hours
Monday 11AM – 8PM
Tuesday – Sunday – 8AM – 8PM
1300 Oak Street
Winnetka, IL 60093
(847) 501-2050
The Winnetka Golf Club Indoor Winter Training Facility offers three full swing evaluation and training bays and a Foresight golf simulator. A 650 square-foot contoured putting green and G2 launch monitor with PING "in-flight" fitting system are also available.
A half hour of access to the indoor nets and short game practice area costs $10, while a half hour on the golf simulator is $18. Call (847) 501-2050 for availability.
7671 Clubhouse Drive
Yorkville, IL 60560
(630) 882-8988
Whitetail Ridge Golf Club in Yorkville features two indoor golf simulators for practice and play during the cold weather months. Weekday rates are $30 per hour, $25 for senior/juniors and $35 per hour on weekends.
17 North Wabash Avenue
Chicago, IL 60602
(312) 251-0540
Centrally located in the heart of the Loop, Play18 Chicago provides the latest in golf technology advancements – including PGA Tour Simulators and personal driving bays- paired with luxury amenities like a spacious locker-room, full bar and lounge. The product of over two decades of research and development, the PGA Tour Simulator is fully loaded with Immersive Play Technology- allowing you to play over 50 of the world's greatest courses without ever leaving the Loop.
Online appointments and membership available.
Hours
Monday – Saturday 7AM – 10PM (24-hour RSVP required between 7-11AM, 8-10PM)
Sunday – 7AM – 6PM
26 W 151 Butterfield Rd
Wheaton, IL
(630) 517-8480
Located on the Arrowhead Golf Club lower level, offering weekday and weekend times as well as simulator leagues. Call or email to book your weekly time for two or four players.
555 S. York Street
Elmhurst, Illinois
(331) 642-8050
Features 4 state-of-the-art simulators that allow you to choose from 93 renowned golf courses with high-tech graphics and fluid ball movement. Bring your own clubs and do not wear golf shoes. A limited number of sets of clubs are available for rental. Free rental on standard sets, premium set fees are $10/session.
Hours
Sunday 7am – 9pm
Monday 3pm – 9pm
Tuesday Noon – 9pm
Wednesday Noon – 9pm
Thursday Noon – 10pm
Friday Noon – 11pm
Saturday 7am – 11pm
600 Waukegan Rd #120
Northbrook, IL 60062
(847) 431-2609
LSGOLF in Northbrook features state-of-the-art golf technology within a 3,000 square foot indoor facility that includes 2 Trackman ball-flight analysis bays, 3 Foresight Sports golf simulator bays and SAM PuttLab for putting improvement. Private and group instruction are available as well as practice memberships.
11173 Dundee Road
Huntley, Illinois 60142
(224) 650-8111
Located in the northwest suburb of Huntley, Tee 2 Green Indoor golf is a 13,000 square foot facility that features six state-of-the-art golf simulators with full swing analysis and 84 golf courses from around the world. The facility also offers a 5,000 square foot practice arena featuring 8 hitting bays and a 1,700 square foot indoor chipping and putting green with sandtrap.
Winter Hours
Mon-Wed: 10am – 10 pm
Thur-Sat: 10am – 1 am
Sun: 10am – 7 pm
Olympia Fields Country Club
2800 Country Club Drive
Olympia Fields, IL 60461
(708) 679-6700
The TaylorMade Performance Labs provide golfers with a new understanding of their individual swing by utilizing motion capture technology. The MAT-T System is a custom fitting process that can build a club designed to match your specific swing characteristics, allowing you to hit the ball longer and straighter with better control. Located in the spectacular Olympia Fields Country Club, The TaylorMade Performance Labs is open to the public.
Winter Hours
Tuesday-Sunday by Appointment
500 North Kingsbury St.
Chicago, IL
(312) 527-5800
The East Bank Club offers five golf hitting stations with a range of 90 feet, enabling golfers to follow the beginning of their ball flight. The Golf Center also includes a putting area, a sand bunker and an elevated and contoured green for chipping and pitching.
880 W. Lake Street
Addison, IL 60101
(630) 458-2660
Links & Tees Golf Dome in Addison features indoor chipping and putting areas, a 2-tiered driving range with target banners, flat-screen TVs and top golf instructors and staff. A mini golf course is also located nearby.
Hours
Mon-Th: 8:00 am – 10:00 pm
Fri: 8:00 am – 11:00 pm
Sat: 7:00 am – 11:00 pm
Sun: 7:00 am – 10:00 pm
Rates
Weekday:$12.00/ 30 minutes
Weekend/ Holiday:$14.00/ 30 minutes
Everyday Savings:$10.00 after 7:00 p.m
Putting and Chipping Green:$5.00/ 30 minutes
One Financial Place
440 S Lasalle St.
Chicago, IL 60605
224.619.8537
Located in the heart of Chicago's Financial District, this state of the art golf performance studio at The Buckingham Club offers complete game improvement featuring AMM 3D motion capture, Trackman Launch analysis, Quintic Ball Roll analysis, and tour level custom club fitting. Fully lifelike golf simulation is available not only for golf coaching sessions, but also for winter play on some of the world's finest golf courses. The club also offers a full executive athletic center experience with a fully outfitted gym, indoor swimming pool, hot tub, sauna, locker room, fitness classes, racquetball, basketball, and a full restaurant and bar.
Hours
Monday – Friday: 6:00 am – 9:00 pm – appointment required.
4700 Royal Melbourne Drive
Long Grove, IL 60047
602.618.1136
Opened in April of 2013, The Royal Melbourne Golf Academy operates year round with a full outdoor set-up from April through September and an indoor game performance studio from October through March.
Hours
Wednesday – Sunday: 8:00 am – 9:00 pm – appointment required.

730 N Bolingbrook Drive
Bolingbrook, IL 60440
(630) 739-7600
Practice golf inside the brand new 60,000 sq ft heated golf dome, work on your putting on two contoured greens as well as a short game area. TopTracer allows you to enjoy virtual golf on the world's best courses, interactive games and stat tracking options at each 30 hitting bays while being served by the staff of McWethy's Sport Bar for your food and drink needs. Full teaching staff for instruction along with Golf Digest's Top 100 Club Fitters to be custom fit into the latest golf equipment.
Information
Mon-Fri 8:00am to 10:00pm
Sat-Sun 7:00am to 10:00pm
Reservations are required, available online
Weekday Rate $35 per bay, per hour (Mon-Fri)
Senior Rate $25 per bay, per hour (Open to 12pm, Mon-Fri)
Weekend Rate $40 per bay, per hour (Sat-Sun)
801 McHenry Road
Buffalo Grove, IL
(847)353-7575
The Buffalo Grove Golf Dome offers a temperature controlled, realistic practice environment suitable for practicing full shots and the short games. The facility features a putting green and a separate chipping green with two sand bunkers as well as a full service pro shop with clubs, soft goods, custom fitting equipment & club repair.
Hours
Monday – Friday 9 am – 10 pm
Saturday 7 am – 10 pm
Sunday 7 am – 8 pm
Rates
Weekdays before 6 pm $11
Weekdays after 6 pm $12
Weekends $12
5 Hour Pass $85
Season Membership $525
9511 West Manhattan-Monee Road
Frankfort, IL 60423
(815) 469-3350
The Golf Dome & Green Garden Country Club is fully heated and offers a two level hitting area with 42 hitting stations. There is also a separate chipping and putting area for short game practice.
Hours
Sunday – Thursday 8:00 A.M. – 8:00 P.M.
Friday – Saturday 8:00 A.M. – 9:00 P.M.
Rates
Medium Bucket (70-75 Balls) $10.00
Large Bucket (100-105 Balls) $15.00
* Free Putting and Chipping areas with the purchase of a bucket of balls.
Putting and Chipping Only $5.00
847-404-9846
2205 Skokie Valley Road (Rt 41)
Highland Park, Il 60035
The Highland Park Field House offers a state-of-the-art range facility designed to help give you the edge needed to improve your game year-round.
Hours
Monday-Friday 9:00am – 3:30pm
Open until 6:30pm on Thursdays
Rates
$12- 30 minutes
$20- 60 minutes
UNLIMITED BALLS
(630) 824-2080
1017 Butterfield Road
Downers Grove, IL 60515
(847) 592-5510
1319 E Golf Rd
Schaumburg, IL 60173
Every PGA TOUR Superstore offers a state-of-the-art performance practice center complete with slow motion video playback capabilities to watch and analyze your golf swing. The indoor driving range comes complete with 3-Trak launch monitor technology to analyze your swing speed, golf ball speed, shot trajectory, and overall consistency.
Hours
Monday – Friday 10:00 A.M. – 8:00 P.M.
Saturday 9:00 A.M. – 8:00 P.M.
Sunday 10:00 A.M. – 6:00 P.M.
2001 Rodeo Drive
Bolingbrook, IL
(630) 771-9400
Featuring top courses such as Pebble Beach, St. Andrews, Bay Hill and Pinehurst, the new golf simulator at Bolingbrook Golf Club is available for memberships, leagues and lessons.
Hours
Rates
Unlimited Season Membership (membership includes unlimited rounds of golf October – March)
Bolingbrook resident: $399
Bolingbrook Golf Club member: $349
Non-resident: $449
10-Play Pass
Bolingbrook resident: $249
Bolingbrook Golf Club member: $199
Non-resident: $299
Green Fees
Bolingbrook resident: $35 per hour
Bolingbrook Golf Club member: $30 per hour
Non-resident: $40 per hour
1546 Old Deerfield Rd
Highland Park IL 60035
847.850.0956
info@thegolfpractice.com
7,000 sq. ft. Indoor Training & Practice Center provides students of the game with an inside facility that replicates an on-course environment.
Indoor Golf Facility Includes:
PGA Tour Technologies such as Trackman, SAM Putt Lab and Multi-High Speed Camera Video System.
Contoured Green Complex that runs 11 on Stimpmeter
Chipping & Pitching Areas
Bunker with Augusta Sand
Training & Balance Aids
Game Plan Meeting Room
Clubhouse Lounge with 50″ TV, Ping Pong & Wireless Internet
630-773-1400
1401 Nordic Road
Itasca, IL. 60143
The Indoor Golf Simulator at Eaglewood Resort & Spa allows you to play a round on one of 36 world famous courses including Pebble Beach, Spyglass Hill, St. Andrews, Casa de Campo, Bay Harbor and others. "True to Course Graphics" provide state-of-the-art 3D simulator graphics reproduced in full, life-like dimension.
Winter Rates for Individual Play & Groups up to 4 Players
** Prices are per hour, not per person **
Monday – Thursday 9 am to 6 pm
$70 per hour (Up to 4 players)
Tuesday – Thursday 6 pm to 12 am
$70 per hour (Up to 4 players)
Friday – Sunday & Holidays 9 am to 6 pm
$90 per hour (Up to 4 players)
Friday – Sunday 6 pm to 12 am
$90 per hour (Up to 4 players)
Each additional person is $20/per hour
708-857-2433
5850 W 103rd Street
Oak Lawn, IL 60453
Stony Creek Golf Course in Oak Lawn offers hourly rental of their golf course simulator throughout the cold weather months. To book a tee time, call 708-857-2433
Hourly Rates
Weekends
$30 per hour
$26 per hour (Senior – 62 & Over)
Weekdays
$25 per hour
$21 per hour (Senior – 62 & Over)
1466 E. Chicago St.
Naperville, IL 60540
630-848-7200
Play the ProTee Golf Simulators at Score 18 Indoor Golf, which offer over 85 golf courses, including Pebble Beach, Pinehurst and St. Andrews. A typical 18 hole round takes about an hour for each golfer.
Hours
Monday – Thursday 9AM – 11PM
Friday – Sunday 9AM – Midnight
Standard Rates
1/2 Hour – $20
1 Hour – $36
2433 Von Esch Rd.
Plainfield, IL. 60586
(815) 436-6769
Indoor Golf, Leagues, Group Events and Memberships Available.
Hours: December thru March
Monday – Thursday 9:00 a.m. – 9:00 p.m
Friday 9:00 a.m. – 10:00 p.m.
Saturday 8:00 a.m. – 10:00 p.m.
Sunday 8:00 a.m. – 5:00 p.m.
Rates
18 Holes – $30.00
9 Holes – $18.00
Range – 1 Hour – $30.00
Range – 1/2 Hour – $18.00
1501 Mitchell Dr
Oswego, IL 60543
(630) 554-PAR5
2091 W 63rd St
Downers Grove, IL 60515
(630) 541-3235
Legends Indoor Golf location features Full Swing Golf simulators with over 60 world famous golf courses available for play.
Hours
Monday-Thursday 9am-11:30pm
Friday 9am-1am
Saturday 7am-1am
Sunday 7am-11:30pm
Rates
Weekday 9 Holes – $20.00
Weekday 18 Holes – $30.00
Range Bucket – $10.00
Weekday Range (1/2 hour) – $16.00
Weekend 9 Holes – $22.00
Weekend 18 Holes – $34.00
Weekend range (1/2 hour) – $18.00
16356 104th Avenue
Orland Park IL 60467
Indoor Golf Links of America in Orland Park offers a complete indoor golf experience with 14 state-of-the-art indoor golf simulators. The facility runs golf leagues and offers golf lessons along with a full bar and entertainment facilities.
Hours
Weekdays 8AM – 10PM
Weekends 8AM – 10PM
Rates
Weekdays $25 an hour
Weekends $35 an hour
5200 Pleasant Hill Road, Prairie Grove IL 60012
815-355-4225
Golf Academy at Terra Cotta is equipped with two TruGolf Simulators, two Practice/Fitting/Teaching Bays, Pro Shop, Golf Fitness Room and Sports Massage Room. The two state-of-the-art indoor practice bays are equipped with a ForeSight launch monitor and video cameras (face on and down the line) providing you with the feedback you need to significantly accelerate your learning process.
Outdoor Golf Facilities
630-593-7390
1051 N. Prospect Ave.
Wood Dale, IL 60191
The 390 Golf Experience in Wood Dale (former site of TopGolf) offers two levels of climate-controlled hitting bays and a third level when weather permits. All bays use Toptracer technology, which supplies valuable gameplay insight like distance, speed, and location as you hit the golf ball.
Rates
$29 per hour – 6 customers per bay
847-803-4653
353 N. River Road
Desplaines, IL 60016
Consistently ranked as one of the top 100 golf driving ranges in America, Golf Center Des Plaines features a three-tiered, year-round driving range with 80 lighted & heated hitting stations, and a fully automated tee-up system.
Hours/Rates
November 1 – February 29
Driving Range: Daily 9:00am-10:00pm
9-hole, lighted course: Now open year-round!
November 1-February 28, 9:00am-5:00pm
$8 per golfer.
March 1-March 31
Weather permitting
Driving Range: Daily 8:00am-10:00pm
9-hole, lighted course: Open year-round, weather permitting.
2050 Progress Parkway
Schaumburg, IL 60196
(847)656-2122
Hours
Sunday – Thursday – 9AM – 11PM
Friday – Saturday – 9AM – 12AM
3211 Odyssey Ct
Naperville, IL 60563
(630) 596-1000
Hours
Sunday – Thursday – 9AM – 11PM
Friday – Saturday – 9AM – 12AM
Topgolf is the premier golf entertainment complex where the competition of sport meets your favorite local hangout spot. You can challenge your friends and family to addictive point-scoring golf games that anyone from the hopeful PGA tour contender to your neighbor's 7-year-old kid can play year-round. Just picture a 300-yard outfield with dartboard-like targets in the ground.

2241 Route 59
West Chicago, IL
(630) 231-3100
10 sheltered and heated hitting bays are available during the cold weather months.
4200 Route 83
Long Grove, IL
847-634-3363
Ballybunion Golf of Long Grove offers a heated driving range for winter practice and golf improvement.
Fall Hours (weather permitting):
Monday – Thursday – closed
Fridays – 10 -4 pm
Saturdays – 10 – 4 pm
Sundays – 10 – 4 pm
1535 75th St.
Woodridge, IL
(630) 985-9860
Zigfield Troy in Woodridge provides partitions along the sides of the driving range to block the wind so you can practice in comfort with six mats under heaters for additional comfort.
Hours
Every day – 9AM – 4PM
27w270 Mack Road
Wheaton, IL 60189
630 260 8199
Winter Hours
Closed Monday
Tuesday-Friday – 10AM – 8PM
Saturday-Sunday – 9AM – 6PM
Regular Winter Rates
1/2 Hour Bay Usage $13
1 Hour Bay Usage – $23
3459 Oakton Street
Skokie, IL
847.674.1500 ext. 3100
Skokie Sports Park, named one of the Top 50 Standalone Ranges in the U.S. by Golf Range Association of America offers 11 heated and enclosed stations for a comfortable practice experience. The range features an automatic tee-up system and 2 Track Tee dividers providing ball speed and distance information.
Hours
Saturdays & Sundays – 9:30 am – 4:00 pm
12294 Archer Avenue
Lemont, IL 60439
866.264.4455
Covered and heated hitting bays are available throughout the winter.
Hours
Daily from 8AM – 5PM
Rates
Small Bucket – $3.75
Medium Bucket – $5.50
Large Bucket – $7.50
1700 West Renwick Rd.
Romeoville, IL 60446
(815) 254-5773
Located in a 5,000 square foot building situated on the south end of the driving range featuring:
11 heated hitting stations for all-seasons practice
2 teaching bays with state-of-the-art technology including Trackman & Foresight GC2
Putting lab featuring SAM PuttLab & Quintic ball roll technology
Dedicated club repair room
Full service bar with 8 flat-screen televisions
Turf Room for private events
141 W Diversey Pkwy
Chicago, IL 60657
(312) 742-7929
Offering beautiful views of Lake Michigan, Diversey Harbor, Lincoln Park Zoo, and downtown Chicago, Diversey Driving Range is two tiered facility with covered and heated stalls throughout the winter. There are multiple target greens and club rentals are available.
26 W 101 Lake Street
Hanover Park, IL 60133
(630) 289-6600
Green Valley Golf Range offers 20 covered and heated hitting stations that are available throughout the winter.
Hours
Daily from 9AM – Dark
19110 S Oak Park Ave
Tinley Park, IL 60133
(708) 429-4837
Odyssey Sweet Spot driving range is located next to Odyssey Golf Course and offers 12 heated bays during the cold weather months.
 
1400 Poplar Creek Drive
Hoffman Estates, IL 60169
847-884-0219
Powered By Toptracer Range, The Bridges of Poplar Creek features 10 covered, heated hitting bays plus a unique beer garden with firepits. Virtually tee-up at some of the world's greatest courses and fine-tune your swing with advanced analytics.
9901 179th Street
Tinley Park, IL 60477
(708) 478.4653
White Mountain Golf Park offers 35 artificial hitting stations, many of which are covered and heated during the cold weather months.
Click here to submit your favorite winter golf facility if it is not already included above.