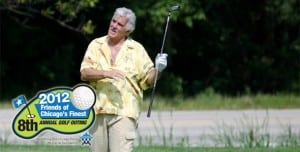 Show your support for the brave men and women who keep the Windy City safe by participating in the Friends of Chicago's Finest Annual Golf Outing at Gleneagles Country Club in south suburban Lemont. The eighth annual edition of this great event takes place on Friday, August 17 and is hosted by American Heritage and helps benefit the Chicago Police Memorial Foundation. The Chicago Police Memorial Foundation is a not-for-profit organization that is dedicated to honoring the lives and memories of our fallen heroes. The Foundation also provides moral and financial support and assistance to the families of Chicago Police officers who have been catastrophically injured or killed in the line of duty.
Gleneagles is the host course of the Chicago's Finest Annual Golf Outing and features two 18-hole golf courses with well-manicured fairways and greens. These Lemont golf courses vary between flat and hilly terrain and feature several long par four holes. On the bright side, there is only one water hazard (the pond on the 17th hole of the Red Course), but the bunkers surrounding the greens as well as the dense trees along the fairways provide plenty of challenge for golfers of all skill levels.
Breakfast, lunch and dinner will be served. On the course, lunch will be served along with pop, water and cocktails. Each golfer will receive a free golf shirt. Additional shirts will be available for $40 each.
Raffle Tickets are available for $5.00 each or 5 for $20.00.
1st Place Raffle Prize: $2,500
Sponsorship Opportunities are still available! Please contact Karen Vargas or Tom Farrell at 708-388-7900 for more information.
Registration Begins – 9am–10:30am
Shotgun Start – 11am
Lunch served on course
Cocktail Hour – 3pm
Dinner, Prizes & Awards – 5pm
Friends of Chicago's Finest Golf Outing
Friday, August 17, 2012
Gleneagles Country Club
13070 McCarthy Road
Lemont, IL 60439
Visit the Friends of Chicago's Finest Golf Outing website for more information.
Title: Friends of Chicago's Finest 7th Annual Golf Outing
Location: Lemont
Link out: Click here
Description: Friday, August 17, 2012:

Date: 2012-08-17