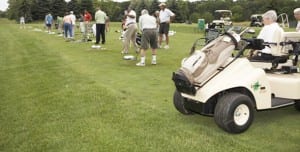 Marianjoy Rehabilitation Hospital is offering adult therapeutic golf clinics throughout the winter at the White Pines Golf Dome in Bensenville. Each therapeutic golf clinic includes two hours of golf instruction from trained area golf professionals in addition to Marianjoy clinical staff.
For just $35, participants will have an opportunity to practice on the range, putting green, and also experience the short game of golf. Clinic instruction is customized for each individual based on their needs and familiarity with the game of golf. This program is open to all golfers of all ability levels and has been created to help each person improve at his or her own pace.
Marianjoy Adult Therapeutic Golf Clinics
White Pines Golf Dome
500 W. Jefferson Ave
Bensenville, IL 60106
January 9, 2012 – White Pines Golf Dome
February 6, 2012 – White Pines Golf Dome
March 5, 2012 – White Pines Golf Dome
April 2, 2012 – White Pines Golf Dome
All clinics will be held on Mondays from 4 – 6PM. For more information, contact Tracy Ekstrom at 630-909-6010.