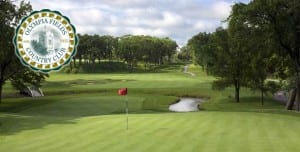 Olympia Fields Country Club helped celebrate Chicago golf this year with their selection by the United States Golf Association as the site of the 2015 U.S. Amateur Championship. First contested in 1895, the U.S. Amateur is the oldest golf championship in the country – one day older than the U.S. Open – and is for amateurs who have USGA Handicap Indexes not exceeding 2.4.
You have to tip your cap to the leadership and membership of Olympia Fields Country Club, south of downtown Chicago. For in a time of transition for many private clubs in America, Olympia Fields is giving up its courses in order to host amateur tournaments.
The club was recently selected to host the 2015 U.S. Amateur. And, unlike recent venues that have hosted the Amateur (Chambers Bay, Erin Hills, Merion, etc.), this comes with no guarantee that a U.S. Open is soon headed its way. And that is fine with Olympia Fields.
Several years ago, Olympia Fields created the Fighting Illini college golf tournament. In short order, this has become a key annual fall event that draws a quality field. Next summer, the club will host the U.S. Junior Girls Championship; in 2012, the Junior Ryder Cup. It has also signed on to be part of the new rota for the Western Amateur.
Why so much amateur golf? "It's just something we do," says club president Jeff Goldman.
Click here for more.