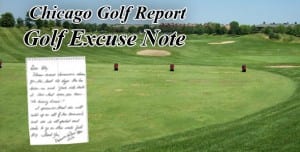 Enjoy this incredible early spring Chicago weather and play golf today with the help of our official Chicago Golf Report Golf Excuse Note. Balmy 70 degree March temperatures don't happen very often in Chicago. In fact, it was 42 degrees at this time last year.
Take advantage of this gift from The Golf Gods with a note from them. Either copy and paste from below or download our free golf excuse note template and you'll be on the course in minutes. Available as an easy-to-customize Word document, just insert your name into this powerful Golf Excuse Note and give it to your boss our supervisor. It's that simple! You'll be teeing off at one of Chicago's 215+ golf courses before the ink dries.
Don't wait, copy and paste or download the Chicago Golf Report Golf Excuse Note as a Word doc now.
Dear <>,

Please excuse <> today from <> responsibilities at your company. Due to unforeseen circumstances and abnormal meteorological conditions, <> has been summoned to personal obligations.

In this economy, we realize that employment is not a gimme, nor has <> ever considered employment with your company a free drop. It's during difficult times like these when everyone within an organization needs to take dead aim and grip it and rip it. We also realize that a successful organization is in the zone 365 days a year and doesn't play by winter rules.

As we all know, <> typically avoids all hazards and missing a day of work is as rare as a hole-in-one. There are no mulligans in life, so it is our promise to you that <> will return tomorrow with his/her "A" game.

Sincerely,

Theg Olfgods

PS – If <> does return with a noticeable sun tan, please disregard.