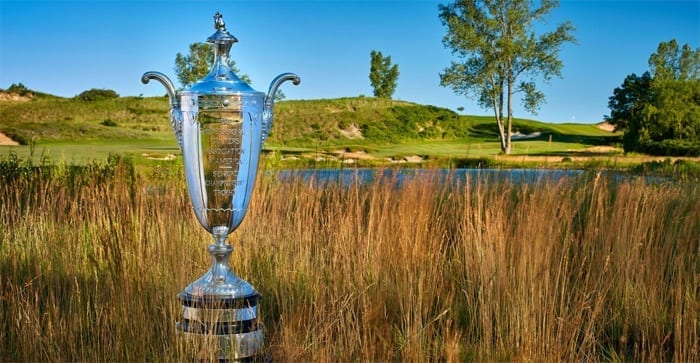 The KitchenAid Senior PGA Championship returns to Harbor Shores in Benton Harbor for the sixth time in 2024. The tournament will be played on the Jack Nicklaus-designed course just 90 minutes east of Chicago in Benton Harbor that was mostly landfill just a few years ago. A few of the holes border Lake Michigan and offer stunning views of the lake and the surrounding beauty.
With its convenient location and star-studded field, this will be a terrific opportunity for Chicago golf fans to enjoy some of the best golfers in the world.
In 2012, Roger Chapman won the tournament with a winning score of 13-under par. Colin Montgomerie matched that winning total in 2014 and is always considered among the favorites once again with a game that suits the Harbor Shores layout. Rocco Mediate won the 2016 Senior PGA Championship at Harbor Shores, with Monty finishing second. Paul Broadhurst won the 2018 edition of the event at Harbor Shores.
Steven Alker overcame a four-stroke deficit at the start of the final round in 2022 by shooting an 8-under 63. His 16-under 268 earned him the 82nd Senior PGA Championship with a three-shot victory over third-round leader Stephen Ames for his third victory in his last four starts.
The KitchenAid Senior PGA Championship is more than just great golf, it is the epitome of a community event. With local and celebrity chef demonstrations, YMCA Kids Zone, Makers Trail 19th Hole, and local live music in the Pure Michigan Championship Courtyard, there is something for everyone this Memorial Day weekend.
"I like Jack Nicklaus golf courses," said Colin Montgomerie. "I like how he gives you some room off the tee, but it's a second-shot golf course. That's how I've made a career. I can hit my second shot the right distance. I can hit that distance more than not and that's this course. You have to hit it the right distance."
"I definitely like this golf course" said 2017 Champion Bernhard Langer. "My first round I played here years ago, practice round, I immediately said to my caddie, this is a special place. I thought it was tee to green one of the best courses I've ever played. I did feel that some of the greens were a little bit severe, but there's a reason for all that, and I can see why Jack did what he did now."
"Good shots get you get a benefit from it and you can make a bunch of birdies, and if you don't hit it in the right quadrant or the right place, you get punished. You might make a three putt, you might even make a four putt. That can happen out here. It's a very demanding golf course. Fairly wide off the tee at times, but very punishing in other areas, and I really love it, and I've enjoyed competing out here. I know I haven't won, but hopefully I get a chance in the near future."
Tickets are available on the Senior PGA Championship website and are $30 for each round of the tournament. Juniors 17 years of age and younger will be admitted into the Championship grounds for FREE when accompanied by a ticketed adult. Each ticketed adult will be permitted four junior grounds admissions per day at no additional charge. Junior tickets may be picked up on-site at the Admissions Office located at the Main Spectator Entrance on the day of admission.
Active Duty, Retirees, Veterans, Reserve, National Guard and their accompanying guest (limit one) complimentary daily grounds access to the Championship. Upon arrival, military personnel must go to the Admissions and Will Call Office to present their Military ID in exchange for Daily Grounds tickets.
Off-site PGA Public Parking will be complimentary and located at the Benton Harbor Charter School Academy (455 Riverview Drive, Benton Harbor, MI, 49022). As you approach the Benton Harbor Charter School Academy, please follow signage and traffic control to PGA Public Parking (Lot GP). Complimentary shuttle service will be provided to and from the Main Spectator Entrance at Harbor Shores. There will be no public parking at Harbor Shores during Championship Week. Lot GP will be open Wednesday, May 25 – Sunday, May 29.
2022 KitchenAid Senior PGA Championship
Harbor Shores
400 Klock Road
Benton Harbor, MI 49022
Schedule of Events
Practice Rounds
During the Practice Rounds, players are invited to play at their discretion. No advance starting times are available for the Practice Rounds.
Wednesday Playing Times*
7:30 AM – 7:00 PM
*On Wednesday, May 25th, the 1st tee will close at 3:00 PM.
Championship Rounds
Starting times as listed are considered approximate, and are based on the assumption that there are no delays, inclement weather, etc.
Thursday – Friday, May 26 – 27
Starting on Holes #1 & #10 (groups of three)
Starting times
7:30 AM – 3:02 PM*
First and second round groupings and starting times will be announced no later than Tuesday, May 24, 2022.
Saturday – Sunday, May 28 – 29
All players starting on Hole #1 (groups of three)
Starting times
7:00 AM – 2:00 PM*
*Subject to change