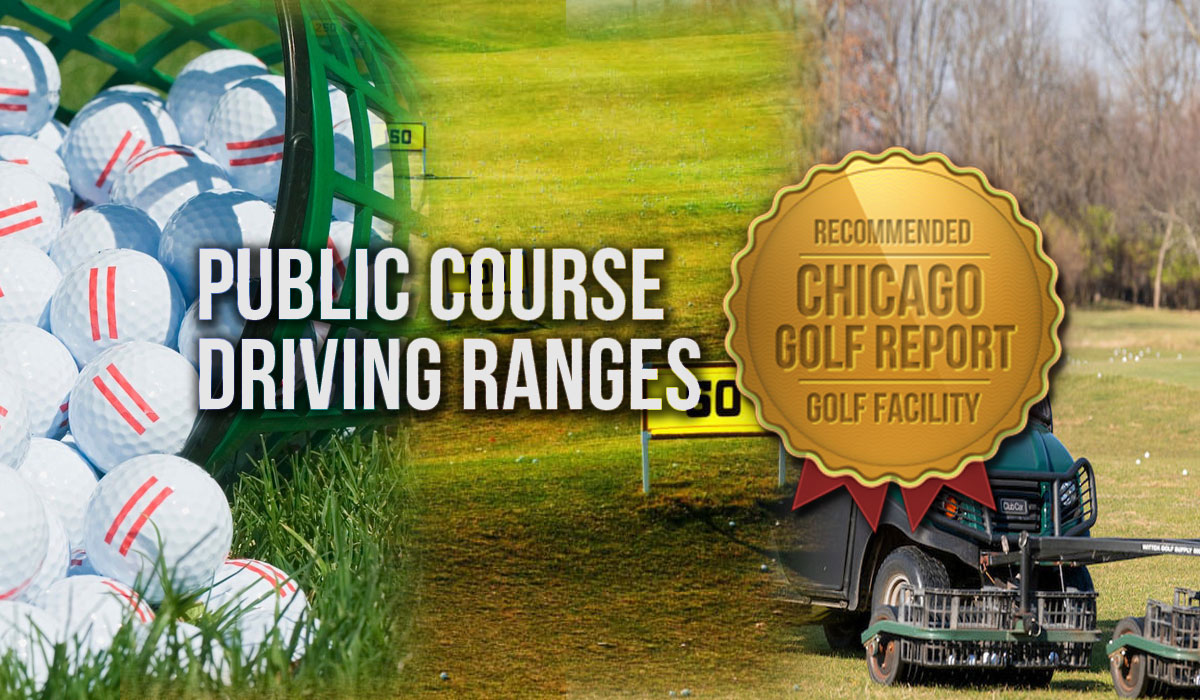 What scares you the most? Non-golfers might answer "heights, spiders, public speaking, or commitment", however, for amateur golfers the unanimous answer could be "my tee shot on the first hole." And if the next foursome is also there watching, the fear factor increases.
Assuming that 'breakfast balls' are prohibited, one of the solutions to overcome the first-tee jitters, while at the same time gathering the admiration of your playing partners and onlookers, is a warm-up session on the course's driving range before teeing off — which leads to this year's Top-10 list compiled by Chicago Golf Report.
For openers, a bit of history. The first driving range was constructed at the Pinehurst Golf Resort in North Carolina. Pinehurst had three golf courses open by 1910 but no dedicated practice facility. In the spring and summer of 1913, Donald Ross allocated, exclusively for practice, the ground originally covered by the first, second and 18th holes of course No.1 when he built new holes further away from the clubhouse. This practice area was nicknamed "Maniac Hill".
Nonetheless, the concept of an on-premise driving range was slow to take root for other existing and future courses. Up until the late 1950's, as means of practice, some upscale courses merely offered a 'practice fairway' for use before and after competitive rounds. Resembling a bowling ball bag, the 'shag bag' held a golfer's personal collection of practice balls, which he toted out to the practice fairway and paid a 'caddie' to fetch and return his quarry of old spheres. Renown architects George Fazio and his nephew Tom, recall "Every good player had a shag bag in the trunk of his car and his caddie would stand in the distance with the bag; the caddie opened the bag up and caught the ball on one bounce. You only needed a very small area. Back in the day, only the good players practiced, and some of them didn't practice much. If they did practice, it was on the golf course."
TV broadcasts of tournaments during the early days of Arnold Palmer's career boosted golf's popularity — watching and participating. And as an inexpensive means to satisfy the public's new urge to head out and try to hit and launch golf balls, the 'stop-and-sock' variety of driving ranges was born. Wow, the simple driving range has truly evolved over the past 70 years!
Nowadays, it is a certainty that if there is sufficient land available, Tom Fazio and other current golf course architects must allocate space for a driving range when designing a course — improved and fancier as time goes by.
The Golf Range Association of America classifies their membership into three categories: ranges and practice facilities associated with public courses, those ranges and practice facilities that serve an exclusive membership (private courses), and those that offer a stand-alone experience.
Chicago Golf Report applauds all the fine private practice facilities in our area for the service and benefits they offer; outstanding examples like Medinah Country Club and McHenry Country Club immediately come to mind. Our appreciation is also extended to local stand alone ranges like Diversey Driving Range, Ballybunion Golf, Fore Seasons Golf Learning Center, and Green Valley Golf Range.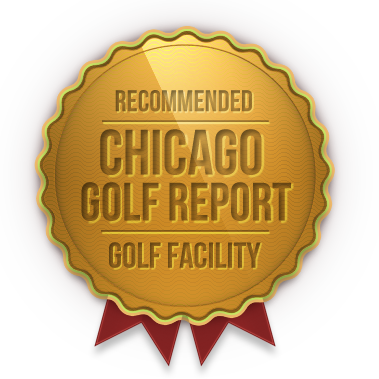 But for the past decade, the Top-10 lists compiled by Chicago Golf Report have focused upon public golf courses in the seven county Chicago-area, and thus, again, with this list, after analyzing 59 candidates, we present our selections for "Chicago's Top-10 Public Course Driving Ranges". While instructors, lessons, clinics, and workshops are important factors to elevate one's golf skills and are closely associated with driving ranges, only physical properties and tangible assets were included for this list's criteria. (All prices shown are current as of the date of publication, subject to change).
The driving range at Bittersweet is 95 yards wide and 290 yards long with 16 matted hitting stations for use during wet conditions and 16 (or more) grass stations for normal, dry conditions. The range is open during all hours when the course is open plus additional hours with lights until 10 p.m. in the prime months of May through October.
Tokens for the outdoor range ball dispenser machine can be purchased inside the pro shop, or, credit cards can be used directly at the outside ball dispenser. Prices are $6 / small bucket (one token / 35 balls); $11 / medium bucket (two tokens / 70 balls); $16 large bucket (three tokens / 105 balls); $21 / jumbo bucket (five tokens / 175 balls). The practice putting green(s) are adjacent to the driving range, and a separate state-of-the-art bunker and short-game chipping green is situated closer to the clubhouse patio.
Special feature and bonus 'brownie points': Location, location, location. The Bittersweet diving range is ideally positioned for every convenience. A row of parking lot spaces is steps away from the range. The #1 tee is just steps away from the west end of the range; similarly, the #10 tee is just steps away from the east end of the range. Whether your warm-up session is 'range first and putt second' or 'putt first and range second', just stroll across the asphalt cart path to get from driving range to practice putting green or vice versa.
Photo Gallery
The St. Andrews Practice Center is a 32 acre on-site facility that features more than seventy bays with grass tees and mats; ten of the hitting bays are sheltered and individually heated. There are 5 built-up target greens with fairway cuts, flags, and bunkers.
Practice buckets are reasonably priced and are available in a variety of sizes: small, $7 / 32 balls; medium, $10 / 50 balls; large, $13 / 75 balls; xl, $19 / 120 balls; jumbo, $26 / 180 balls. Discounts extended to junior golfers.
In addition to full-swing practice, St. Andrews has a short game practice area with two chipping greens and a putting green; the area has lighting for night use. The St. Andrews Practice Center has its own golf shop with food and beverage service. Coming in mid-April 2022, the practice center will add TopTracer ball flight monitoring.
Special feature and bonus 'brownie points': St. Andrews Golf Practice Center is open every day — check the website for hours of operation. Fresh air 365 days / year found here.
Photo Gallery
For warm-up and practice, The Bridges of Poplar Creek driving range contains 50 lighted stations hitting off grass and synthetic surfaces to four target greens; a small bucket (36 balls) is priced at $7 for 2022. A 9,100 square foot putting green and 3,500 square foot bentgrass chipping area are also available at the Golf Learning Center. Additionally, The Bridges of Poplar Creek Practice Center now features 10 covered, heated hitting bays powered by the TopTracer Range Driving Range Enhancement System.
With fees ranging from $25 to $50 per hour based on day and time of reservation, golfers can tee-up in virtual fashion at some of the world's greatest courses, or can fine-tune their swing with advanced analytics. Built into the TopTracer system are games and modes suited for all ages / skill levels, including 'Closest to the Pin' and 'Long-drive Competitions'. Each bay is equipped with a video monitor.
Special feature and bonus 'brownie points': Each bay in the covered section is equipped with a self service tablet to order your favorite food or drinks; just order and continue to play and it will be delivered directly to your bay. Finally, visit the unique beer garden with firepits to unwind or just relax.
Photo Gallery
If the numbers presented below aren't impressive enough, then just one visit to Harborside's practice area will convince golfers that the south side of Chicago has a first-class practice facility. The numbers are so impressive that the Golf Range Association of America has recognized Harborside as one of the "Top 50 Golf Ranges" in the United States for the past eight years (2014-2021). The 57-acre practice facility at Harborside services over 45,000 range visits per year. The number of range balls dispensed on their range last year was more than 2,250,000. New inventory of 50,000 range balls is purchased each year and replaces last year's balls on an even monthly basis throughout the season.
The range's expansive bent grass teeing area (50 hitting stations) is the identical bent grass used for the teeing areas and fairways on Harborside's two courses, thus providing the similar feel for shots experienced once the round begins. Identical grass therefore allows golfers to accurately gauge the expected roll on their tee shots and other long fairway shots after the real game has commenced. Additionally, there are 34 stations with mats and 8 heated and covered bays. There are four target greens on the range and there is a separate area for chipping, pitching and sand play. The practice green features a large putting clock for putting drills. As the season gets underway, the Range and Practice Facility is open 7 days / week. 2022 range prices are: $6 / small bucket (30 balls); $9 / medium bucket (60 balls); $12 / large bucket (80 balls); and, $22 / extra large bucket (180 balls).
Special feature and bonus 'brownie points': As a convenience to golfers, perhaps saving them a trip back to the main clubhouse, there is a separate 3,000 sq. ft. golf shop right at the practice range. Snacks, beer, soft drinks, along with 'equipment essentials' like gloves, balls, hats, tees, and wedges are available for sale at the range shop.
Photo Gallery
Chicagoland's biggest public golf complex includes four regulation length 18-hole courses and a driving range. Stretching out to 300 yards, the driving range features 64 grass tee hitting stations and 42 bays with mats. All of the bays with mats are heated and covered and include TopTracer ball flight tracking system, each with its own monitor. Range ball pricing is the same for mats and grass; small bucket $6 / 30 balls; medium bucket $8 / 45 balls; large bucket $11 / 80 balls; XL bucket $15 / 120 balls; family bucket $22 / 180 balls. The range is lighted, in season, for night use.
The range target area includes built up greens, fairway cuts, bunkers, and flags. Accompanying the range is a short game practice area and a putting green. Cog Hill's driving range wins our hypothetical 'mega-service' award as it simultaneously services its four courses and hosts over 80,000 range patrons each year. The number of range balls dispensed is estimated at 4 million. The range is open 364 days a year (closed Christmas); hours vary by season.
Special feature and bonus 'brownie points': Pollyanna Brewing Company's refreshing ales are unique to Cog Hill. Along with popular domestic and imported beers, the driving range serves up Pollyanna's Long Drive ale, a German Kölsch brewed for Cog Hill, and Pollyanna's Range Picker Pale Ale.
Photo Gallery
5. The Glen Club – Glenview – (847) 724-7272
The driving at The Glen Club measures 360 yards from end to end and 95 yards edge to edge, meaning that this scenically cultivated and landscaped practice area totals just under 8 acres. Upgrades at the range for 2022 will replace the 12 individual mats at the north end of the range with a continuous turn strip of artificial turf capable of servicing 20 golfers; new decorative pavers matching the cart path will provide swift, easy access to the hitting area. Golfers can also hit off of grass, with a maximum capacity of 25 golfers at one time. The range is reversible with the south end primarily reserved for members.
The range has four elevated target green complexes. The reversible range features three short-range targets used for wedge shots of between 40 and 80 yards. A bucket / bag of 40 balls is priced at $14.
The practice putting green is located adjacent to the clubhouse, en route from the driving range to the #1 tee. Parking spaces for cars are located near the range.
Special feature and bonus 'brownie points': Here's an exceptional benefit that the Glen Club driving range provides to golfers that warm-up by predominantly hitting their driver — the driving range precisely mimics the tee shot on #1 tee! Hitting driver in a north-to-south direction on the range is exactly the first shot on the demanding par-5 opening hole. The wind direction will be the same, the sun angle is identical, the sight-line is similar. The dictionary defines 'precognition' as 'foreknowledge of an event', which is precisely what the positioning of the driving range offers. Hope that the last range ball hit was 'striped', then hope for deja vu on #1's tee box.
Photo Gallery
4. Bolingbrook Golf Club – Bolingbrook – (630) 771-9400, ext. 4500
With repeated honors by the Golf Range Association of America, a dedicated team committed to maintaining superb conditions, and having its own clubhouse, the practice center at the Driving Range and Golf Academy at Bolingbrook Golf Club earned its spot on our Top-10 list. The facility features 70 bent grass hitting stations, 12 target greens, a 10-acre short game area that includes two par-3 holes, and lights for nighttime use. Prices for range balls from the Academy clubhouse are: Warm Up (40 balls) $9.00; Small (70 balls) $13.00; Medium (110 balls) $18.00; Large (140 balls) $23.00. Fees for the Short Game Area are $16.00 per Hour, or $25.00 for 2+ Hours.
Special feature and bonus 'brownie points': An old TV commercial said that "CERTS candy breath mints is two, two, two mints in one" and a similar statement can be made about Bolingbrook's driving range. The range is accessible from two directions. Golfers coming to the range for practice are directed to the Academy clubhouse and entrance at the far south end of the practice area; golfers playing a round of golf at Bolingbrook Golg Club hit complimentary warm-up balls from the north end of the range, just a few yards from the main clubhouse, on their way to their first tee. Bolingbrook's practice area is two, two, two ranges in one.
Photo Gallery
3. Cantigny Golf – Wheaton – (630) 260-8199
Spacious enough to handle today's big hitters, Cantigny Golf's 350-yard long driving range is accessible from both outdoor and indoor hitting stations. The 2022 prices for range balls are $6 for a small bucket, $10 for a medium bucket, and $15 for a large bucket. There are 8 target greens located at various distances on the range. During the warm weather months, the outdoor setup can accommodate 30 golfers from grass stations and 16 if the outdoor mats are used.
During the colder months golfers can still access the range from 10 heated indoor bays at the Cantigny Golf Academy building. Exclusively on heated hitting bay #8 there is a Trackman practice station. Fees for this station are $20 for thirty minutes or $40 for sixty minutes.
The Cantigny Golf Academy building and driving range are conveniently located to the parking lot and just a short cart ride away from the #1 tee of any of Cantigny's three courses.
Special feature and bonus 'brownie points': The Trackman practice station on heated hitting bay #8 has its own software and video monitor. Golfers who wish to use this feature need not have a Trackman 'app' installed on their smartphone, nor even bring a smartphone.
Photo Gallery
To be fair and accurate, the driving range at Mistwood Golf Club in Romeoville is one portion of the Mistwood Performance Center, an 18-acre practice facility with the entire compliment of bells and whistles that any golfer would want. The 'hub' of the Performance Center is a lengthy 5,000 square foot building housing 11 covered, heated hitting stations for all-season practice. The Center also features a full-service food and beverage bar with 8 flat screen televisions throughout the Center, and a Turf Room for private events.
The rear of the Performance Center building faces north and opens to 225′ of grass teeing area capable of serving 30 hitting stations for the 310 yard long range. Situated in front of the Performance Center is an enormous practice putting green, one of the largest practice greens in Chicago. A short game practice area with bunker is located to the west of the Center.
More than 2 million range balls are dispensed annually at Mistwood to 20,000+ range visitors. The price for range use is $20 (unlimited balls / time). In 2020 Mistwood added the TopTracer ball tracking system, and allows any range player the use of this system free of charge. A special gratuity at Mistwood: golf greens fees include range services with each and every round for the players.
Special feature and bonus 'brownie points': The Mistwood Performance Center has its own bar / restaurant with a selection of delicious comfort food that is tops in the area. So if the final portion of your golf round or practice session contained a 'menu' of duck hooks and chili dips, then making a substitution of an entree like Mistwood's famous 100% angus beef burger will result in more of a fantastic finish.
Photo Gallery
Whether a golfer visits the Heritage Oaks driving range to warm-up before a round, or to engage in a serious practice session, or has brought the family for fun and games, this practice range is "everybody's everything" at an affordable price. The 27-hole Sportsman's Country Club complex closed in September 2019 in order to commence work on a complete renovation project that included the driving range. After nearly two full years of careful re-construction, Sportsman's CC — now Heritage Oaks — re-opened and began servicing golfers on August 16, 2021.
The renovated six-acre outdoor practice range at Heritage Oaks Golf Club features 30 hitting stations, six target greens, and TrackMan Range technology for tracking all shots during practice; this feature extends across all thirty hitting stations and can be used by any / all golfers provided that they bring a smartphone with a TrackMan Range app installed. Heritage Oaks is the first range in Illinois with the complete installation of TrackMan Range. The free TrackMan Range app (accessible link on the Heritage Oaks website), available for both smartphones and iPads, provides a variety of practice and entertainment opportunities.
Three military-grade Doppler radar units track eight key data points for every shot. Virtual games include Bulls Eye, Hit It, and Capture the Flag; each game is quick, fun and challenging. Play alone or challenge up to five friends.
Range balls (pin code) are available at the pro shop, or, golfers can use the self-serve golf ball distribution option directly at the range with a debit or credit card . Practice prices are: small bucket $6 / 25 balls; medium bucket $10 / 50 balls; large bucket $14 / 75 balls; XL bucket $18 / 100 balls; no additional charge for TrackMan Range feature, and there is no time limit imposed. The range has lighting for evening practice (hours vary by season).
Additional practice areas, but apart from the driving range, include a 10,000 square foot putting green and a separate short game practice area featuring greenside chipping, pitching and bunker shots of up to 20 yards.
Special feature and bonus 'brownie points': While the Heritage Oaks practice range is across the parking lot and separate from the clubhouse and courses, it is permissible to drive rented riding carts to the practice range.
Photo Gallery
Check out our complete list of Chicago area driving range facilities.