Purposeful, but obstinate, there are products whose containers have lids and caps that are difficult to open; bleach bottles, prescription medicine containers, and even paint cans come to mind. Especially troublesome are those clear plastic clamshell encasements with molded seams around the entire perimeter. Most folks, like me, prefer things that are easy to open. Senior golfers in Chicago, especially those with good memories, will recall the introduction of the pop-top can, which was followed by the twist-off bottle cap — yes, "easy openers".
In a previous edition of Chicago Golf Report, our article entitled "Ultimate Ultimates" proposed our list of the top 10 most difficult finishing holes on public access courses in the Chicago region. Now, we flip and turn the tables 180 degrees and list our choices for our area's top 10 least difficult starting holes, our "Easy Openers". To assure minimal stress and low scoring opportunities, our criteria takes root in this equation, namely, "short + straight + flat – hazards = easy". A birdie, eagle or even albatross might be possible.
10) Shepherd's Crook-Par 4-(350 / 331 / 326 / 268 yards) Hdcp 17
One of the area's most challenging, and fair, courses offers its players a chance to begin their round on a good note with a wide fairway to accept that initial drive. Almost every airborne tee shot that is longer than 50 yards will find the fairway, and being a moderately short par-4, provides an opportunity to reach the large green in two shots. No trees to worry about on Shepherd's Crook's first hole, but there are mounds of fescue grass on both sides of the fairway. The forward tee is given a logistical advantage by being placed to the left side of the small marshy pond.
9) Deerfield Golf Club-Par 4-(322 / 315 / 315 / 281 / 244 yards) Hdcp 15
The piece of property that the Deerfield Golf Club occupies is long and narrow and is bordered along its entire eastern edge by the TriState Toll Road, thus rendering a routing of many long and narrow holes. DGC's opening hole is a precise precursor of what challenges lie ahead, but on a shorter scale. The complete official name of this golf facility is the Deerfield Golf Club and Learning Center and features a full-flight driving range with both grass and matted hitting areas, separate pitching and chipping greens, a chipping and putting green, sand bunkers and two large putting greens. This superb practice area is conveniently located near the #1 tee, providing the opportunity to groove and repeat straight warm-up golf shots. Favoring the right-center of this fairway will set up a comfortable approach to the green.
8) Woodruff Golf Course-Par 4-(352 / 341) Hdcp 12
As part of the Joliet Park District golf group, Woodruff, an 18-hole par-68 is a favorite of local senior golfers. There are no par-5 holes here, and the longest par-4 measures 387 yards. The Woodruff layout saves its trouble for its later holes; beginning with the par-3 #7 hole, golfers will experience water hazards on 11 of the final 12 holes.
To the contrary, Woodruff throws very little in the way of trouble at its patrons on its early six holes; with its starting hole devoid of sand and water this Joliet course, therefore, earns a spot on our "easy openers" list.
7) Gleneagles Country Club -Lakes Red Course-Par 4-(312 / 306 / 289) Hdcp 15
Of the two 18-hole courses at Gleneagles Country Club in Lemont, the Lakes Red Course is the shorter, and offers its patrons an opportunity to match or better the 'par' for the first challenge with a limited distance of only 312 yards from the back (black) tees.
There is a line of trees on the left side; the more open side is to the right. Four greenside bunkers guard the medium sized first green, but all in all this is a smooth introduction to the Lakes Red routing. 'Crawl-walk-run' could be a mantra on Lakes Red as the distances on holes numbered #10 through #17 lengthen, to include three par-5's and a monster par-4, #17 measuring 461 yards.
6) Lincoln Oaks-Par 4-(346 / 331 / 325 / 231) Hdcp 17
A short walk from the clubhouse past the 18th green and golfers will arrive at Lincoln Oaks' first tee for a mild beginning, a 346-yard (back tee) par-4. There is a single fairway bunker on the right side halfway down the fairway, followed by two greenside bunkers, one to each side of the green.
These two greenside bunkers are widely separated, and, with no frontal bunker approach shots may effortlessly run up or crawl up onto this green. A slightly shorter par-4 hole follows, and if you par the opening two par-4's, you can state that you parred all the par-4's on the front-9, as holes 3 through 9 are alternating par-5's and par-3's.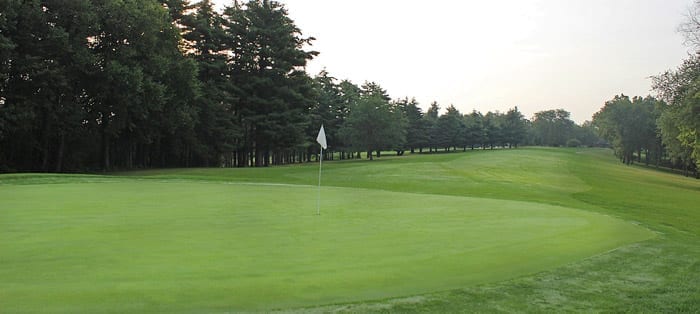 5) Macktown-Winnebago Forest Preserve-Par 4-(327 / 316) Hdcp 17
A trek out to Rockton in Winnebago County, just west of I-90 and just south of the IL/WI state line, and golfers will find the location of Macktown Golf Course. The yardage guide's 'pro tip' for this hole reads like 'this short par 4 sets the tone for the entire round at Macktown GC; if you are not so accurate with tee shots then leave the driver in the bag for most of the day'.
No bunkers whatsoever to worry about on this opener. The fairway tilts slightly right to left — just stay out of the trees.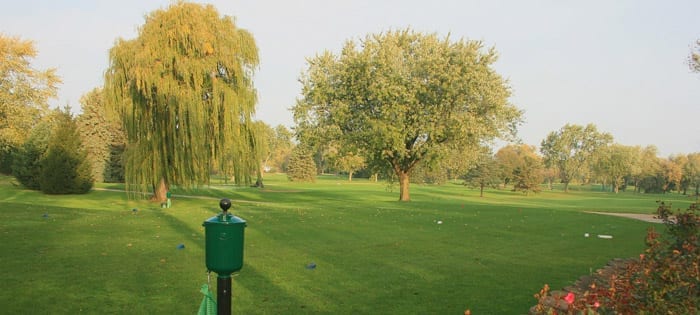 4) Renwood Golf Course-Par 4-(310 / 295 / 284 yards) Hdcp 15
Many golfers need a few holes to get warmed up and into the complete swing of things. If you are one of those golfers then Renwood Golf Course in Round Lake might just have the opening that's right for you. Not just one short opening hole, but two more to follow. Hole #1 is a straight par-4 measuring a mere 310 yards from the back tee.
There are three fairway bunkers and two greenside bunkers, but the trees are major defense of this opening hole. FYI: two short, straight par-4's follow, with hole #2 measuring 280 / 272 / 256 yards, and, hole #3 measuring 300 / 300 / 285 yards. Golfers executing straight shots are rewarded with birdie opportunities and many pars.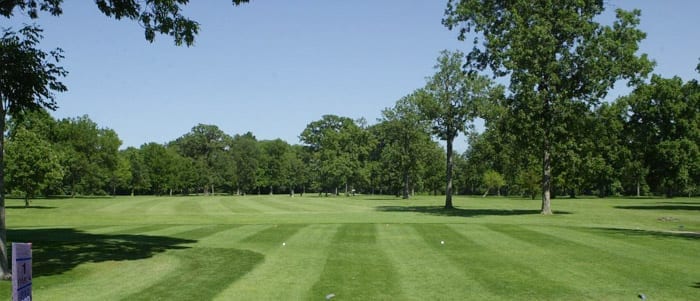 3) Chick Evans-Par 4-(312 / 300 / 288) Hdcp 7
Chick Evans Golf Course is one of the Cook County Forest Preserve District courses operated by Billy Casper Golf Management that offers affordable greens fees to the general public. It is a regulation 18-hole course measuring 5691 yards. Its opening hole is flat, both fairway and green, with a few trees to the right of the fairway that suggest that tee shots favor the left side of hole #1.
There are no bunkers, so that's no concern. What is of concern is the nearly annual springtime flooding of the West Fork of the North Branch of the Chicago River that flows through the course. Best to play during the summer months and benefit from firmer fairways.
2) Village Green Golf Course -Par 4-(274 / 248 yards) Hdcp 14
The opening hole at Village Green Golf Course sets the tone and is a likely blueprint, but on a much shorter scale, for the first four holes of this routing in Mundelein. All four holes are straight challenges along the north, east, and south perimeters of the property. All four have out-of-bounds along their entire left sides. But hole #1 is a 'shorty', a par-4 measuring just 274 yards from the white (back) tee. There are two fairway bunkers, one left and one right that are generally flat and with tiny lips, thus allowing many shots to roll through and beyond. There is also one greenside bunker on the left front.
The left side out-of-bounds is a danger, therefore many golfers bail to the right, which could create a lie for the second shot in the right fairway bunker or among the small grouping of rightside trees. But there is salvation going even farther right into the parallel #10 fairway, providing a suitable approach back into the #1 green. A summertime west or southwest wind is a tailwind helper.
1) Old Top Farm Golf Course -Par 4-(230 / 220 / 171 yards) Hdcp 9 (of 9)
Our supreme choice for easy openers is the first hole at Old Top Farm. The course occupies property that was a former tree and sod farm, thus dictating that the whole course is flat. Old Top Farm opened as a golf course in 1998 and at that time started rounds with a par-3 hole; in 2008 the routing was changed to its present, more logical configuration, thus positioning a very short par-4 as the starting point.
At a mere 230 yards, OTF's first hole is potentially drivable by a large percentage of golfers. Trees and out of bounds are trouble along the left side. A solitary greenside bunker sits to the left of the green but is tucked behind some of the final leftside trees. A limited number of trees have been planted on the rightside of the fairway.
At approximately 160 yards from the green (seventy yards ahead of the back teeing ground) the fairway slopes slightly downhill. Adding to the downhill advantage, the prevailing westerly wind is a helping tailwind. After experiencing just two or three drives from the #1 tee, golfers can be dialed in as to which club efficiently gets the round started at Old Top Farm…and listen for the sound of the birdies.
Welcomed by nearly all golfers, these top-10 easy openers, and others similar to them, provide ample opportunity to start a round with a par, and, as the saying goes "if you don't par the first hole, you can't par them all."