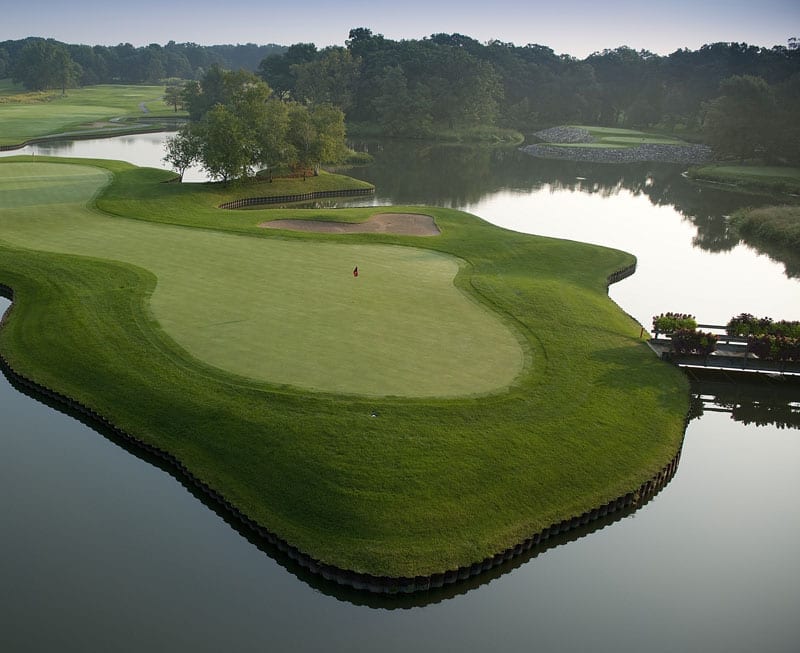 In real life, when faced with dangerous situations humans and other critters have three choices: run, fight, or hide. However, there are occasions out on the links when the twisted mind of cruel golf course architects provide just one alternative — the forced carry — golfers can't go under, they can't go around, they must go over.
In this war between golfers versus architects, skirmishes are waged every day on battlefields called courses, oftentimes with lofty adjectives added, like "championship" or "signature". Reaching into their arsenal, architects use weapons like pot bunkers, blind landing areas, and crowned greens to defeat golfers. But there is still another potent weapon in the architects' arsenal, and when they want to call out the heavy artillery, they design a forced carry. When under attack from the architect's heavy artillery the losses for golfers, quite fortunately, are not an arm and a leg, but a stroke and a ball.
Golf course architects realize that the forced carry is both a physical and psychological challenge to golfers. Like when patients first enter a clinic, they become terrified by the sights and sounds experienced in doctor and dentist's offices; this comes even before the actual pain of the needle or drill. Similarly, golf course architects are aware that the sight of a sizable carry over water strikes fear into the hearts and minds of amateur golfers; doubt and tension have probably pre-determined the outcome of the next shot. But water is not the only obstacle utilized in the architect's forced carry repertoire; canyons, ravines, or areas of dense prickly desert scrub are other types of hazards that, if a ball fails to carry, cannot be accessed by the golfer to attempt the next shot.
Staying up late into the night, golf course architects probably attempt to channel Martha and the Vandellas, and dream up designs where there is nowhere to run to and nowhere to hide. Or, from a galaxy far, far away perhaps they hear the voice of Obi-Wan Kenobi saying, "Use the force-d carry".
Forced carries abound all across our region, so with consideration given to distance and precision, here is our list of the top ten toughest forced carries facing golfers on Chicago area public courses (with apologies if your personal nemesis is omitted):
10) Hole #16 at Redtail Golf Club in Lakewood is a par-4 with the approach to an island target, generously containing extra land on the island in addition to the green. Golfers at Redtail will have already faced a similar shot, as the routing placed another par-4 island target on hole #10, six holes earlier. Hole #16 is slightly longer than hole #10, and thus grabs a spot on our toughest forced carries list.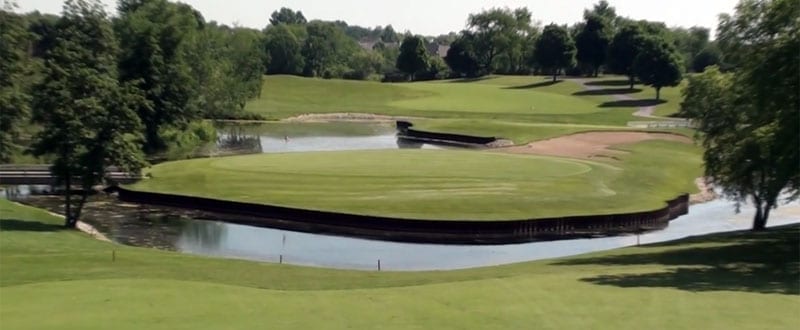 9) "Castle Keep" is the name of Woodside's #8 par-3 hole at Cantigny Golf in Wheaton, but "Island Hopping" could have been an alternate name, as a narrow bridge connects the mainland to an island tee, and up ahead another narrow bridge connects the mainland to an island green. One more island with bushy trees finds space in this pond, but do not attempt to "hop, skip, or jump" to this island. Play to the center of this green with modest caution, on this modest length par-3.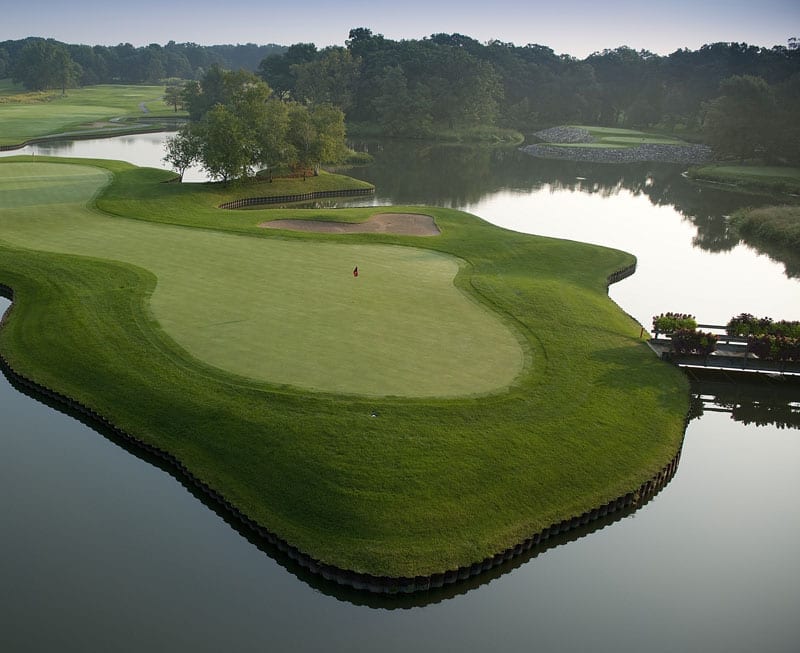 8) If there is truth in the adage that 'size matters', then chalk one up for Mundelein's Village Green Golf Course. Hole #16, a par-5 of approximately 520 yards, contains a long and wide pond, whose estimated dimensions are 200 yards wide by 85 yards to carry. Golfers tee off from a slight valley to the slightly rising fairway. The blue plate indicating 200 yards to the center of the green is one yard shy of the edge of the bridge to cross the pond, so the perfect lay-up at 201 yards from the green results in an 86 yard forced carry with an additional 115 dry yards needed to reach the green.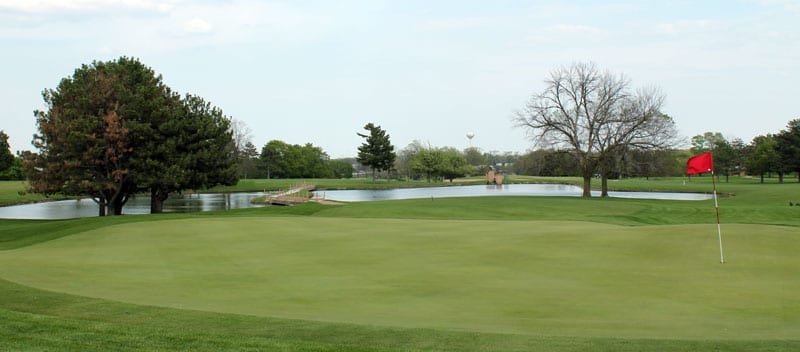 But the 86-yard water carry is a misleading distance, as the ground for a few yards over the pond slopes back toward the pond, and the hole usually plays into the wind. Adding to distance truly required to carry the pond is that lay-up shots hit from the fairway are struck from a sightline lower than the landing in front of the pond, and since golfers tend to be cautious on lay-ups, the lay-up shot stops a greater distance from the bridge or pond's edge. Previous versions of the Village Green scorecard included a local rule prohibiting playing around the pond either into the 14th fairway or 17th fairway.
7) Geography teachers and the internet tell us that 71% of the earth's surface is covered by water, and it may seem like even more when playing Odyssey Country Club in Tinley Park. Architect Curtis Strange placed plenty of water hazards here on his first fifteen holes, but also designed ways for the very skillful or very cunning golfers to avoid these wet trappings. Not the case on the par-5, #16 signature hole that features an island green. The end of the fairway is 50 yards from the center of the moated green; if this were a restaurant, chili dips would be served at 51 yards and divot salads served at 100 yards.

6) Proving the point that various challenges other than water create a forced carry, Oak Grove's par-4 tee shot on hole #16 must carry a deep ravine. Additionally, tall hardwood trees both from in the ravine and from the opposite side of the ravine leave but a narrow path of airspace to reach the fairway. This forced carry challenge could appear as any ranking in our list; appearing late in the round, by hole #16 golfers are either warmed-up or tired-out. Fortunately for golfers at Oak Grove in Harvard, they will get a good teed-up lie to try to knock it over the ravine; also, depending upon the golfer's usual slice or hook trajectory, they can tee it up leftside or rightside on the teeing ground.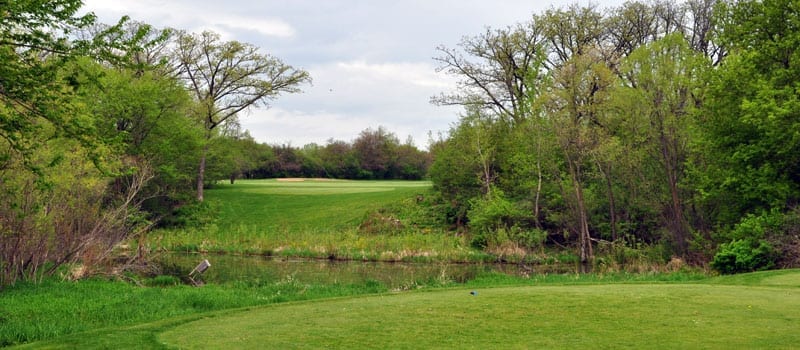 5) Have you ever tried winning a stuffed animal at a carnival by tossing a nickel onto a greased / waxed plate? Chalet Hills' hole #14 is golf's version of this tricky game. Located in Cary, this hole is medium length par-4, which plays slightly downhill, but is tight with trees on both sides of the fairway. The green is wide (left to right), but narrow (front to back); the green is flat without a helpful back-to-front slope, and the green is usually on the firm side — all characteristics of the carnival plate. A clear, shallow pond encircles the green on 3 sides: front, left, and back and brazenly displays all of its victims. Drives that are not long enough / straight enough must lay up and face the dreaded distance of 45-55 yards from a layup zone containing numerous divots.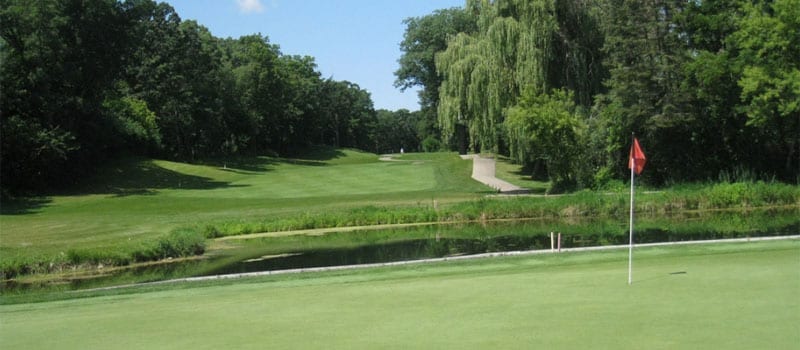 4). Orchard Valley in Aurora names its finishing hole "Left is Right" because all tee shots that go right on this par-4 design get wet (second pond), but getting 'to the left' first requires getting over the sizable water hazard (first pond) placed between the tee and the fairway. The Player's Guide measures the carry needed to reach the safety of flat, dry land at 164 yards from the black teeing ground, 149 yards from blue teeing ground, and 137 yards from white teeing ground. Seeing that this forced carry will take place on the round's finale, where all bets could be decided, makes for a formidable challenge.
3) Eagle Ridge Resort & Spa is Chicago's most popular, or most advertised, golf resort, and out in Galena the topography is spectacular. The North Course's signature hole is #8, which is a 165-yard par-3. There is a drop in elevation of 80 feet from tee to green and this tee shot must carry the corner of Lake Galena. Thus within a short span of less than ten seconds Eagle Ridge golfers get a lesson in aeronautics and 'aquanautics' — learn how to fly a kite or learn to captain a submarine.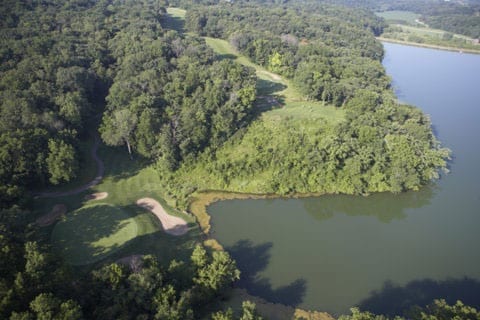 2) Coming close to the perfect definition of an island green, the target of Bolingbrook Golf Club's par-3, hole #15 is an island in the middle of a large pond; there is very little extra grass on the island other than the green's grass; the island is accessible by a footbridge. Wind whips down the Rocky Mountains and passes over 4 states with nothing to stop it before reaching Bolingbrook…whether wispy or gusty, there will be wind on #15 tee. At BGC, they measure this hole in yards, but it should be measured in angst.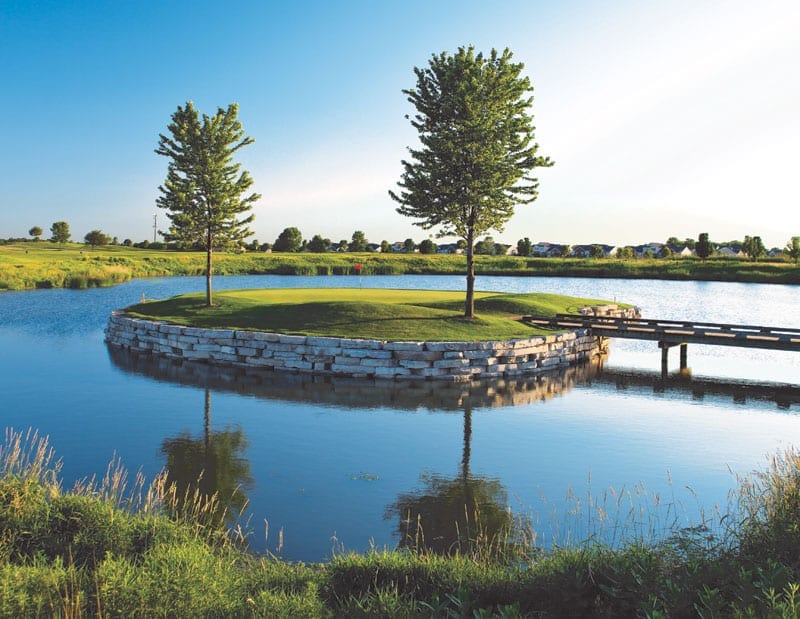 1) Here's the architect's plan: if one forced carry is good, then two are better. That's the layout of Oak Grove Golf Course's, par-5, hole #11. Whether it is actually a creek through a wetland, or perhaps a creek and a wetland, there are two forced carries over hazards that writhe their way like a snake around and across the fairway of this unusual hole. And there's more; overhanging limbs from hardwood trees near the tee place restrictions as to the height and trajectory of the tee shot, and a forest beyond the carry over the first wetland awaits overpowered drives with lost ball possibilities or poor angles to place the layup in front of the second creek-hazard. An architect's dream and a golfer's nightmare!