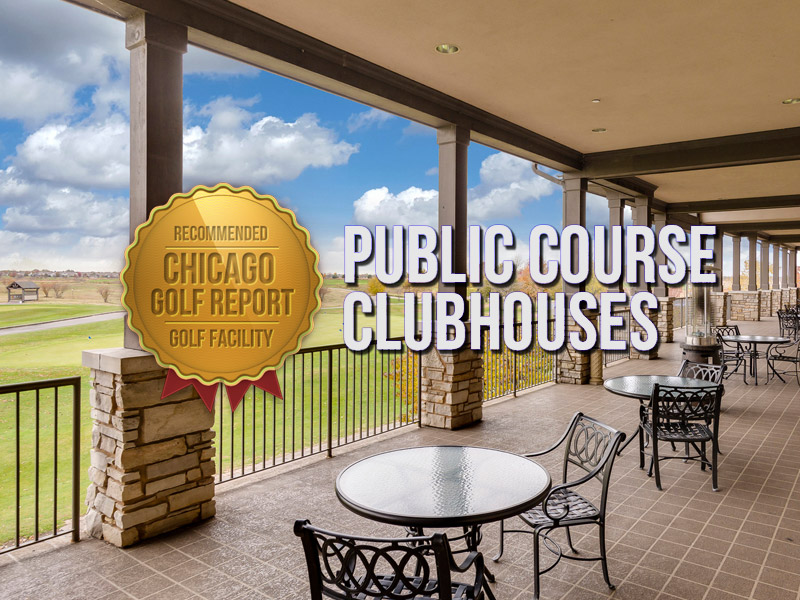 Editor's Note: Just ahead of the start of the 2021 golf season Chicago Golf Report published its list of the Top-10 public golf course clubhouses. Later that season several Chicago area public courses opened new or re-modeled clubhouses. Having gained research and feedback about these new clubhouses, and in order to maintain current, up-to-the-minute rankings, Chicago Golf Report is now posting its 2023 list of Chicago's Top-10 public golf course clubhouses.
With golf's surge in popularity in the late 1990's spearheaded by Tigermania, Chicago was graced with the 'building' of many new golf facilities, and in order to stand out, or, stand above the competition the new facility needed a lush, scenic piece of land for its 18-hole (or more) course routing, and, a modern, stylish clubhouse to service it. But still, just as with residential housing, older clubhouses can be expanded and / or refurbished to stay valuable and functionable.
Clubhouses can and do serve a dual purpose by providing the opportunity for golf facility operators to bolster their revenue with non-golf gatherings, such as weddings and business meetings. For the purpose of this top-10 list, receptions and corporate seminars are set aside, as Chicago Golf Report wishes to emphasize the importance and benefits of clubhouses to everyday golfers. The effect and influence by clubhouses on everyday golfers is threefold — before, during, and after the round.
If you play enough golf, you have most likely had both good and bad experiences before your round has even begun. If you are pressed for time before tee-off, is the cashier counter positioned far from the door?
Are there enough cash registers to handle one or more foursomes at a time? Especially during shotgun start events, are there enough stalls in the restroom? Is the pro shop large enough to carry a varied selection of golf merchandise in your size, your brand so you can start your round fully armed and in style?
In the situation when there is no on-course beverage cart, is the snack counter or grill sufficiently stocked with ready-to-go beverages and munchies for a quick visit at the turn?
And when the round is finished and the 19th hole is reached, is there a good place to cool down, payoff bets, watch golf or other sporting events on TV? How many TV's? Or, is there a spot for a relaxing overall view of the property? How enticing is the menu? Does the clubhouse offer video gaming terminals, if permitted?
Be assured that the selection of this year's top-10 list was especially challenging; in addition to those facilities whose building made the list, there were at least another dozen clubhouses that were close contenders, and so we apologize if your favorite clubhouse is one of these that was omitted. Therefore by asking and answering the questions shown above, and with points added or taken away beginning with necessities and moving on to bells and whistles, here is our list of Chicago's Top-10 Public Course Clubhouses (7 county surrounding area):
The clubhouse at Harborside International Golf Center is a spacious 20,000 square-foot, prairie-style inspired structure. Popularized by famous Chicago architect Frank Lloyd Wright, prairie-style buildings are characterized by open floor plans and horizontal lines. The use of horizontal lines was believed to evoke and relate to the wide, flat, treeless expanses of America's native prairie landscape. And it is the treeless, links-style theme that golf course architect Dick Nugent, by necessity, incorporated into his design of the two courses at Harborside International Golf Center. Function and form for both the course and the clubhouse; Chicago roots for both Nugent and Wright.
Harborside International Golf Center is located at 11001 South Doty Avenue East, just minutes from downtown Chicago and still within the actual city limits. To be purely and totally technical about our rankings, Harborside International Golf Center's clubhouse, being the only member of these rankings actually within the zip codes of the Windy City, should therefore be at the top of the list.
Harborside International Golf Center has been Chicago's home for quality public golf since 1995. The clubhouse offers great views of both its courses, Lake Calumet, and off in the distance the skyline of the city. Keeping with a desire for home-grown Chicago ideas and products, Harborsides's restaurant, The Pier, serves up 'Maxwell Street' Chicago-style char dogs and 312 Pale Ales.
The opening of Ruffled Feathers golf course in 1992 was headlined with the names of its course architects, Pete and P.B. Dye; Golf Digest and Golfweek both listed Ruffled Feathers among their "Best New Courses in America" for 1992. To compliment the quality of its course layout, Ruffled Feathers then constructed a modern premium clubhouse. The new clubhouse attracted the attention of the Illinois Section PGA which moved its office headquarters from Oak Brook to the Ruffled Feathers clubhouse on April 1, 1995.
In January 2015, Ruffled Feathers scripted a new chapter in its storied history when leading golf management firm Arcis Golf assumed operation of the club. Arcis determined that after two decades of use and twenty years of northern Illinois climate, funds needed to be spent and embarked upon a project to drastically transform the interior and exterior of the Ruffled Feathers clubhouse, and these results have earned a spot on our Top-10 clubhouse list.
The "modern Tudor" exterior of the 30,000-square-foot clubhouse at Ruffled Feathers GC exudes a warm, calm, and inviting emotion, while the interior maintains its every nook with comfort and style. The clubhouse bar has been completely changed to provide a brighter, more casual environment, highlighted by wall-size photo murals depicting Chicago's rich history and landmarks. Just outside the bar, the 1,000-square-foot wraparound deck provides multiple seating areas and vantage points for watching action on the 9th and 18th holes. New restaurant décor, furnishings and menus, has greatly enhanced the dining and event experiences.
As part of the $7 million renovation project that began in 2017, Sunset Valley's course and clubhouse re-opened for play on August 18, 2018. The newly remodeled clubhouse, a total makeover of the building erected in 1956, now offers a classic cozy, but up-beat vibe with stunning views of the new golf course. Originally opened in 1920, Sunset Valley Golf Club is now embarking on its second century of operation. Blending tradition with a modern twist is the theme at SVCC.
"13ninety" is the name of the new bar and grille at Sunset Valley. Serving up classic American fare in a casual chic decor with plenty of elbow room describes "13ninety". The floor-to-ceiling windows, along with trac lighting, and a black / white / gray color scheme give the bar a modern open look, while the leather seating and fireplace in the lounge area present the classic cozy feel.
Every table in the dining area has an outstanding view of the course. The restaurant menu features authentic American fare — today's favorite sandwiches, small bite offerings, and some full meals that hearken back to the 1920's golden era when Sunset Valley first opened for play. The trendy laid-back bar pours craft beer, wine and timeless signature cocktails like the Old Sport and Gin Ricky.
Looking for even more personal space and elbow room? Then settle down outside on the trellised patio overlooking the course for the perfect spot to hang out for drinks and a meal. Many regular golfers with late afternoon tee times along with other local residents head to the clubhouse veranda for outdoor dining and / or an evening drink around the cozy firepit tables and have discovered that it's perfect for a relaxing intimate view of the perfect "Sunset".
Not to be overlooked, the expanded pro shop offers golf accessories to fit everyone's needs.
In 1985 the DuPage County Forest Preserve District took over ownership and management of the former Elmhurst Country Club in Addison, IL. Two of Mother Nature's elements tossed problems at the new owners of this traditional golf course. First, in any Spring season with above average rainfall, flooding of the Salt Creek closed the course and killed some of the turfgrass. Secondly, in 2009 a lightning-sparked fire destroyed the monumental (mostly wood) clubhouse that occupied the grounds for nearly a century. To remedy these two issues, the board of the DuPage County Forest Preserve District decided to remodel the course and build a new clubhouse – a decision that took time to fully implement, but yielded magnificent results.
Closed for two years, starting in 2015, the renovation by golf course architect Greg Martin, allowed for a re-opening of the new routing in 2017, along with its new name, The Preserve at Oak Meadows. But still, the issue of being without a permanent clubhouse needed to be addressed. After groundbreaking in 2019, at long last in 2021, the new clubhouse was unveiled.
A striking futuristic design utilizing canopies, angles, and a blending of indoor and outdoor spaces sets this clubhouse apart from any other in the surrounding area. A foursome of construction materials – stone, wood, steel, and glass – are used to enhance the unique design.
Noticeable on the front facade is the wood, while floor-to-ceiling glass is the most dominant feature of the rear wall.
There are two dedicated entrances to the 18,000 square-foot clubhouse, one to the pro shop and the other to the restaurant. The main (ground) level occupies 13,353 sq.ft., while there is 4,665 sq.ft. for usable storage in the lower level.
Two sets of men's and women's restrooms are located on the main level; one set toward the restaurant, and one set with lockers adjacent to the pro shop.
When customers come to dine at a golf course restaurant, their interests are undoubtedly good food and a good view. The Greenway Tap inside the Preserve's clubhouse hosts "full menu" hours including lunch and dinner on Thursdays, Fridays, Saturdays, and Sundays and has seating, with views of the golf course, for 88 diners. The "U" shaped bar is open 7-days a week until 9pm with a "Grab & Golf" menu (available until 8pm Monday, Tuesday and Wednesday). The 270 degree highstool bar seating also affords great views of the golf course.
The fare at Greenway Tap's restaurant includes starters, featured plates, burgers and sandwiches, and a kid's menu, with worldwide tastes
from Asia, the Mediterranean, Tex-Mex, and downhome American.
As for adult beverages, the Greenway Tap offers all the popular distilled spirits, a variety of 16 wines, and a choice of 10 bottled and canned beers. Lest we forget, DuPage County is home to some of the best craft breweries in the country, and Greenway Tap's draft list includes the latest release malts from More Brewing, Noon Whistle, Alter, Solemn Oath, and others.
Relax, dine, drink, and view in the Preserve at Oak Meadows fabulous new home.
The history of Makray Memorial Golf Club dates back to its original opening in 1953 as Hillcrest Acres Country Club. In 1962 the course was purchased by Paul Makray Sr., who changed its name to "Thunderbird." Paul Makray Sr. died in 1998 and afterwards Paul Makray Jr. and his siblings decided to rename the course in honor of their father.
After three years of reconstruction, the golf course became the new and improved Makray Memorial Golf Club in June 2004. As a further tribute to the senior mister Makray, and in a manner more fitting than just a mausoleum, the Makray Memorial clubhouse features a magnificent stone facade with the charm of an elegant old world manor house.
Makray's two story 24,000 sq. ft. clubhouse has its pro shop and Oak Terrace restaurant bar and grill located on the ground floor with adjacent outdoor seating on the patio. The upper floor has a wraparound stone veranda offering spectacular views of the golf course. This structure is a modern example of a timeless beauty with rustic elegance.
5. Arrowhead Golf Club – Wheaton
The clubhouse of Arrowhead Golf Club in Wheaton is a 50,000 square foot building that opened in 2006. It is a masterful blend of wood and stone materials throughout its entire structure. Solid, deep rich wood is used in the restaurant's booths and chairs, while the bar facade is wood over a raised stone base. The exterior patio looking out towards the west-nine resembles the fortifications of an ancient stone castle, offering views of the actions and struggles of modern day golfers not medieval warriors.
Another historical feature contained inside the Arrowhead clubhouse is an exhibit of golf artifacts pertinent to the area called "Wheaton – Golf History Starts Here."
A service which is rarely found at public courses, but is offered at Arrowhead is daily locker rental.
Lockers are available in the men's and women's locker rooms for an additional fee ($10), and include complimentary towels, shampoo / body wash.
A full line of golf equipment including bags, clubs, balls, and tees, and all apparel — hats, shoes, shirts, gloves, shoes, socks — everything from head to toe is available in the pro shop.
Following a two year, multi-million dollar construction effort, Mistwood's clubhouse ribbon cutting ceremony was held on April 18, 2016. Four years later, during 2020, Mistwood's owner, Jim McWethy, passed away, but lived long enough to observe the completion of his Mistwood buildings in the manner of honoring his Scottish heritage.
Julius Caeser wrote "All Gaul is divided into three parts." Similarly, the building(s) necessary to properly serve the needs of golfing customers at Mistwood Golf Club are divided into three parts — the golf shop, the clubhouse, and performance center.
The golf shop resembles an urban Scottish storefront; with stone paver blocks underfoot, painted exterior trim colors and a pointed-roof turret it is not difficult for golfers at Mistwood to imagine that that they are checking in to a course in Scotland.
The clubhouse contains McWethy's Tavern, a restaurant open to the public, and the Great Hall, the area available for larger gatherings. (Although they appear to be separate and distinct structures, the golf shop and the clubhouse are connected by an underground basement, which stores and hides the fleet of riding carts). With meat, fish, and fowl recipes from around the world, the McWethy's menu is not solely Scottish, but for certain serves Scotch whiskey.
The clubhouse is set back slightly from the course itself; diners and wedding guests should not be a distraction to the golfers. Still, seating in McWethy's Tavern, with its 27-degree bank of bay windows offers spectacular views of the lake and green of the par-5 third hole.
Apart from the 29,000-square foot clubhouse, but with a similar stone facade is Mistwood's 5,000 square foot Performance Center. Among the features making it one of the best performance centers in the Midwest are indoor and outdoor hitting bays with Trackman golf radar, Foresight GC2 Smart Camera System, indoor SAM putting lab, club fitting and repair rooms, and its own bar and grill with eight flat-screen televisions.
By having its own structure, the performance center allows golfers who are practicing and other student golfers who are being evaluated to be unencumbered by the everyday golfers and undisturbed by the general public restaurant customers.
What worked for Julius Caesar in Gaul also worked for Jim McWethy in Romeoville.
On Friday, January 27, the Illinois Parks and Recreation Association named Northbrook Park District's Executive Director, Molly Hamer, the 2023 IPRA Professional of the Year. Ms. Hamer holds that a large portion of the credit for this award is due to the successful completion of the total remodeling of (formerly) Sportman's Country Club.
In 2018, the Northbrook Park District launched a capital improvement initiative to include improvements to the golf courses, practice facilities and clubhouse at Sportsman's Country Club. At that time Northbrook Park District's Board of Commissioners allocated $12.5 million for this project. Course and range improvement designs were contracted to Rick Jacobson of Libertyville-based Jacobson Golf Course Design Inc; the project also included a name change to the facility, becoming Heritage Oaks Golf Club, and construction of an entirely new clubhouse designed by RATIO Architects of Chicago.
On August 16, 2021 the renovated course and new clubhouse became open to the public. The new clubhouse is an ultra-modern 10,000 square-foot building containing a fully stocked pro shop with all the latest clubs, apparel, and accessories. Staff offices, public washrooms, and a flexible meeting room /area are also situated on the west wing of the clubhouse.
Making the clubhouse a full year-round entertainment stop is the east wing of the clubhouse. The Acorn Grill + Terrace along with the golf simulator room are available all 12 months of the year. The restaurant seating capacity is 72 seats (proper), 20 seats (bar), 71 seats (terrace and lounge), with an additional 30-person seating using the flexible space.
The golf simulator room contains two Full Swing Pro simulators, and is adjacent to the restaurant and bar, so while one player is simulator-swinging, the other indoor golfers can access food service in just four steps and quickly bring appetizers, entrees, and beverages back to their private simulator nook. Winter simulator leagues at Heritage Oaks can keep competitive golf swings alive during the below freezing months.
Whether you prefer watching sports on any of six flat-screen TV's or prefer observing the stunning views of the course, the Acorn Grill + Terrace provides a perfect atmosphere for unwinding for a post-round meal or cocktail. The Acorn Grill + Terrace serves breakfast from 8am-11am daily. After that, the menu features traditional American cuisine spanning small bites, soups and greens, handhelds, monster burgers, to 'mains' like sirloins or seafood. The Acorn serves up 7 tap beers, 15 malts in can and bottles, 5 white wines, 4 red wines, and all your favorite spirits and cocktails.
In an attempt to summarize the description of the Heritage Oaks building, the marriage of the west wing and the east wing is a marriage of function and panache, and this union produces a clubhouse that is well over and above the average clubhouse and vaults it into the number three position.
The Glen Club with its 48,000 square foot clubhouse opened in 2001, and while it was, from its very beginning 'history making', it remains, today, totally modern and '21st century'. Even before the grounds opened, the clubhouse was selected to be the home of the Illinois Golf Hall of Fame and office headquarters of the Illinois Section PGA. And with the club's opening in 2001 the course was named to all three Top-10 new course lists published by Golf Digest, Golf Magazine and Sports Illustrated, a recognition that no other course in the U.S. had ever achieved.
With praises about the facility from contestants who participated in past events at The Glen Club, this masterpiece from Tom Fazio continues to host important tournaments like the Korn-Ferry's Evans Scholars Invitational, the Illinois Open, and additional charity gatherings.
Beyond the fact that The Glen Club is the only facility to house the historical displays of Illinois Golf Hall of Fame, no golf course clubhouse other than The Glen Club can claim to contain a 21-room hotel under its roof! The number of brands and styles of golf equipment and apparel available in The Glen Club's pro shop approaches that of the largest big-box golf superstores.
Positive comments and compliments about this clubhouse extend beyond those regarding this building's size and style, its vast array of merchandise offered in the pro shop, and its on-premise lodging opportunity; maximum accolades are earned for the food and beverages served in The Glen Club restaurant.
The menu at The Glen Club restaurant offers innovative cuisine and traditional home cooking. Appetizers and entrees are so tasty that folks who typically don't opt to eat at golf course restaurants regularly dine at The Glen Club…golfer tested, public approved.
It is possible that there are not enough superlative adjectives to describe the 76,000 square foot clubhouse at Bolingbrook Golf Club. Opening day for the clubhouse was Monday, May 19, 2003. The building was designed by Peter Kramer of Larson-Kramer-Kjelstrom Associates, Ltd., who has designed more than 100 clubhouses for various private, public, or municipally owned golf courses. Kramer's colossal structure at Bolingbrook ranks as the largest public golf clubhouse in the state of IL (second, overall; only the private Olympia Fields CC's clubhouse is larger).
The first floor contains a 2,180 square foot pro shop, men's and women's locker rooms, the casual dining golfer's grill, and an exercise facility. The second level houses the grand ballroom which can seat up to 900 guests, the pre-function area which has three wet bars, audio-visual meeting room, and a covered veranda overlooking the #1 and #10 tees; the grand ballroom can be partitioned into 5 smaller banquet rooms. The upper level contains a fine-dining public restaurant, two gourmet private dining rooms, and two bridal suites.
"The Nest", Bolingbrook's casual dining bar and grill, is open every day to golfers and the general public from 11am to 9pm. There are two menus available at The Nest, the first being the restaurant menu with daily luncheon and dinner specials like full and half-slab ribs, prime rib, and seafood.
Next, there is the bar and grill menu with soups, salads, wings, sliders, pastas, wraps and the famous 'Nest Burger', one half-pound of certified Angus beef. With a wide selection of domestic, imported, and craft beers, plus numerous wines and spirits "The Nest" is the top 'watering hole' among area golf courses for attracting after-golf customers.