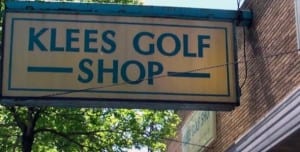 Chicago is home to the oldest 18-hole course in North America – Chicago Golf Club in Wheaton, which was one of the five clubs which founded the United States Golf Association in 1894. Chicago is also home to Klees Golf Shop, which has been around nearly as long.
Opened in 1910 by Charles Klees across the street from Jackson Park Golf Course, Klees Golf Shop has played an important part in Chicago Golf History. This legendary Chicago business has served over four generatons of Chicago golfers and is now located in Chicago's historic Beverly neighborhood at 104th and Western.
Featuring expert golf club fitting and a full selection of golf equipment, Klees Golf Shop offers a unique combination of personal service and equipment expertise. They also have embraced technology, offering certain products online and through eBay.
Located only 20 minutes from downtown and close to I-57, Klees Golf Shop is a Chicago landmark and is definitely worth a visit.
Klees Golf Shop
10436 S. Western Avenue
Chicago, Illinois 60643
(773) 233-4000
www.kleesgolf.com