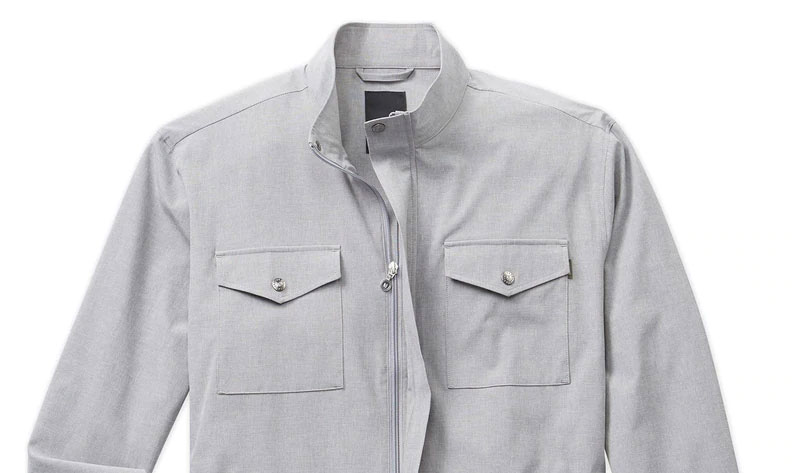 With the 150th Open Championship taking place at St Andrews in July, the world of golf will be celebrating a classic golf course and event that will never go out of style. For those attending the event in Scotland, they would be wise to bring a windbreaker to manage the often blustery conditions and brisk gusts emanating from the North Sea.
The Linksoul Boardwalker Full-Zip Windbreaker would certainly be an excellent choice at the "home of golf". The Boardwalker Windbreaker is constructed with cotton and recycled poly that provides warmth on cold windy days.
Made with 35% Recycled Poly, 32% Poly, 25% Cotton and 8% Spandex the Linksoul Boardwalker Windbreaker features a classic design that won't go out of style. It's well constructed, lightweight, stylish and was designed with 4-way stretch characteristics providing full range of movement throughout the golf wing.
The jacket is described as water-resistant, not waterproof, but the material is warm enough to help keep your core warm in harsh conditions. The classic styling of the Boardwalker Windbreaker jacket accentuates the durable construction, zippers and buttons.
Based in Southern California, Linksoul is a golf apparel brand that is known for making versatile and comfortable clothing, in addition to its charitable initiatives. Two-time Masters Tournament champion Bubba Watson is an investor as well as a brand ambassador for Linksoul.
Co-founded by golf fashion icon John Ashworth and a team of his family and close friends, Linksoul is a group of people that have been in men's lifestyle clothing industries (namely golf and surfing) for decades. The founder has been making waves in the golf fashion industry since the early 90's when he started his namesake brand, Ashworth.
Linksoul's approach bridges the gap between golf and surfing. Creating clothes with comfortable fabrics and contemporary designs that you would want to wear on the course or hanging out at the beach is at the core of their mission.
It's this hybrid approach that translates to comfort in all conditions. Whether on or off the golf course, it pays to be prepared for the elements. The Linksoul Boardwalker Full-Zip Windbreaker is easily packable and lightweight, perfect for a cool summer evening or late spring.
Constructed partially from recycled poly derived from discarded plastic bottles, this jacket is durable, versatile and machine washable. The full zip up design works well for easy layering mid round.
The Linksoul Boardwalker Full-Zip Windbreaker is a highly functional and well-designed jacket that will never go out of style. It's available in navy, black and grey on Amazon for $130.

$130
Machine washable
Composed of 35% Recycled Poly / 32% Poly / 25% Cotton / 8% Spandex