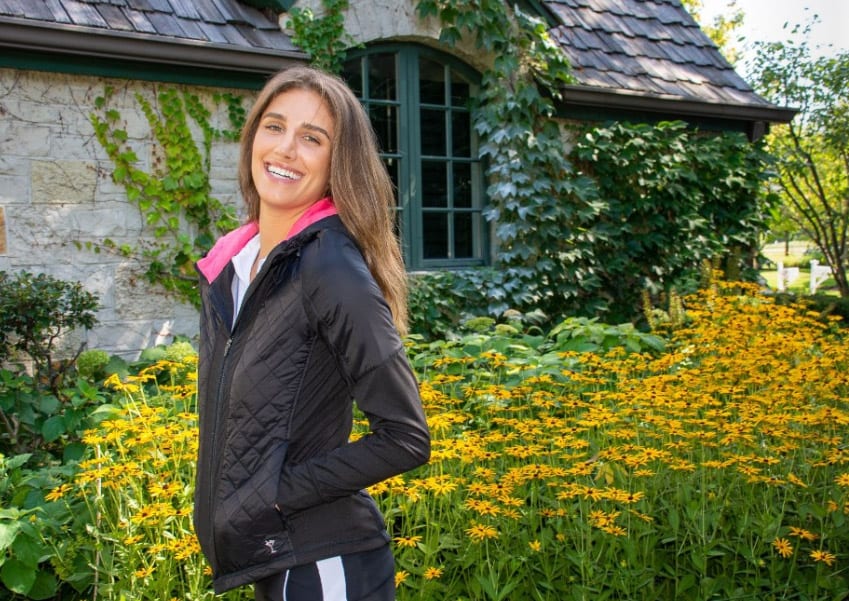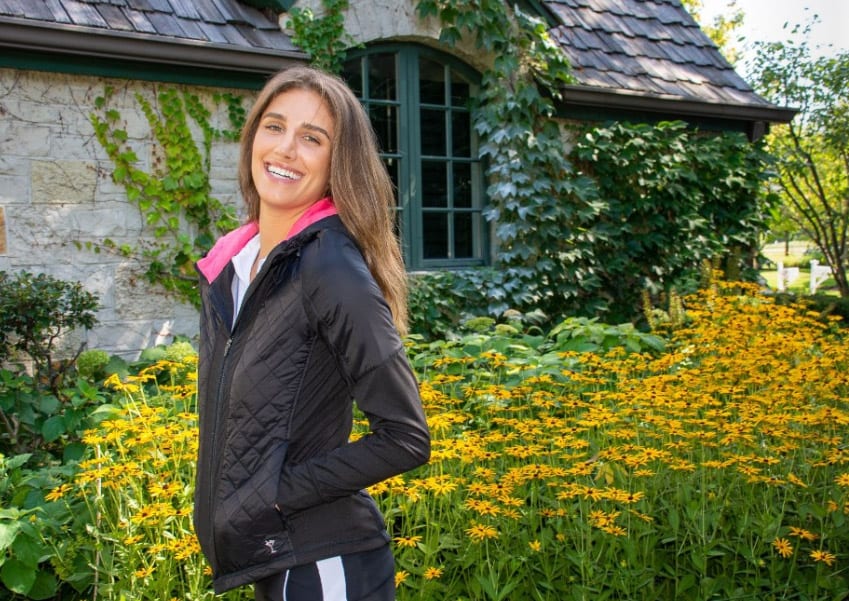 The changing of the seasons has a big impact on golf in Chicago. This time of year we can see temperatures as warm as 70 and as cold 30 or below.
That's why it's important to be prepared with the right clothing, especially during the Fall and Spring. My strategy has always been layers, which can be added or removed based on the conditions.
One of my favorite new additions to my layering system on the golf course is the Hooded Windbreaker Jacket from Golftini. It works great both on and off the golf course by providing protection from the elements, especially the wind.
Golftini's headquarters are here locally in Prospect Heights. They've been making fashionable yet functional upscale golf wear for 15 years. I'm a big fan of their women's skorts, so it made sense to test their outerwear as well.
This Golftini Hooded Windbreaker Jacket is made with 88% polyester, 12% spandex and 100% quilted polyester. The mix of these materials provides a layer of breathable warmth.
I also love the flexibility it provides during the golf swing. This jacket offers virtually no restriction on the backswing, takeaway and follow through. Freedom of movement often becomes hard to come by with many jackets. That's definitely not the case with the Golftini Hooded Windbreaker Jacket.
Did I mention it's also super cute? The classic black quilted material is really sharp and is accented with a hot pink hood.
Just like their terrific skorts, this jacket offers quality, style and great design. I'm a big fan of the two zippered outside pockets and two interior pockets. There's always lots of places to keep your tees and ball marker.
The Golftini Hooded Windbreaker Jacket also offers UPF 30+ sun protection woven into the fabric. That's a great additional layer of protection to keep your skin healthy throughout the year.
Golftini clothes are sold at many golf clubs in the Chicagoland area and more than 500 pro shops worldwide. They can also be found at specialty retail stores such as PGA Tour Superstore as well as on the company's website (golftiniwear.com).
Not only is Golftini a local company worth supporting, they make some of the most well made, well designed golf wear on the market. Their huge selection of women's skorts, tops, pants, outerwear and accessories is loaded with great gift ideas.