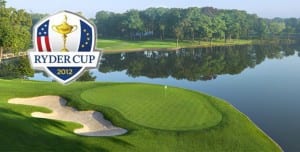 As the golf world begins to prepare for the PGA Tour Playoffs, Medinah Country Club continues preparations for the 2012 Ryder Cup. Golf's most watched team event takes place September 28-30 at beautiful Medinah Country Club in the western suburbs on the legendary No. 3 course.
According to a recent report by The Chicago Tribune, Medinah's director of golf course operations Curtis Tyrrell is working long hours to make sure the course is up to the elite standards of this major global golf event. Tyrrell believes that the Medinah golf course will be in peak condition with decent weather and some cooler temperatures. Scorching July temperatures have tested Medinah and nearly every golf course groundskeeper in the Chicagoland area.
The spectator stands are already in place and will be joined shortly by 15 massive video boards to be installed by Texas-based GoVision. These huge screens should make following the action of Davis Love III and Jose Maria Olazabal's teams throughout the 18-hole layout at Medinah easy and enjoyable.
The golf course will close after Labor Day as final preparations begin. Many potential Ryder Cup players have already visited Medinah and many more are expected in the next few weeks. The course has experienced multiple changes by Rees Jones since Tiger Woods won the PGA Championship in 2006.
Tournament organizers are calling the Ryder Cup the biggest sporting event in Illinois history. Tickets sold out last year and are selling for nearly $500 in after markets such as StubHub.com. Daily crowds for the practice rounds and event dates are expected to reach 40,000, which would rival the best years of the Western Open at Cog Hill.
In addition to the star power of the players on the course, the United States team will feature team ambassador Justin Timberlake. Timberlake's affection for the game of golf is well documented, so his presence at Medinah should only serve to enhance the buzz of this major event.
2012 Ryder Cup

September 25-30
Medinah Country Club
6N001 Medinah Road
Medinah, IL