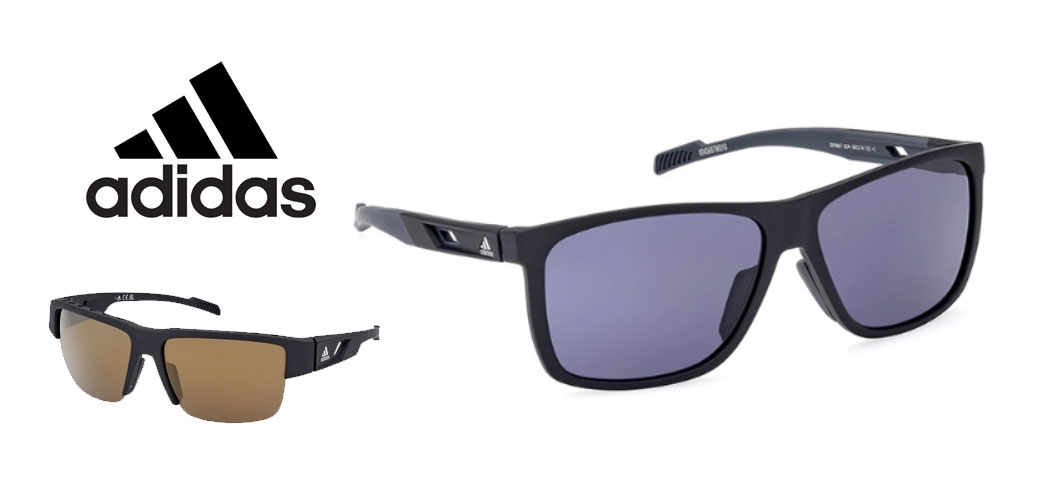 The finite difference between good and great is perhaps no more evident than in professional golf, where many of the top players on the Korn Ferry Tour have the ability to compete with the world's best on the PGA Tour. Achieving success can often be a matter of a slight statistical improvement in strokes gained putting or greens in regulation.
Finding those slight improvements can also be a matter of improving one's equipment. When it comes to sports sunglasses that work well on the golf course, Adidas has carved out a significant niche. Through combining advanced technology, cutting-edge design, and a deep understanding of the needs of golfers, Adidas has created a line of sunglasses that promise enhanced performance and comfort during a variety of outdoor activities.
We recently tested two popular offerings from Adidas's sports sunglasses line: the SP0067 and SP0070 models. Both models are designed with the golfer in mind, promising superior eye protection, improved visual clarity, and stylish design. However, each model brings its unique attributes and characteristics to the table.
In this review, we'll delve into the specifics of each product, comparing their features, performance, and value to help you make an informed decision for your next pair of sports sunglasses.
SP0067 Adidas Sport Sunglasses
The Adidas SP0067 model offers an assertive, dynamic design that provides support and visual stability in all course conditions. On the first wear, they feel light yet secure, with an overall comfortable fit.


Frame construction: The frames of the SP0067 are composed of a robust and lightweight plastic that ensures durability while not compromising on comfort. The fit is adjustable, courtesy of Adidas's customizable nose pads and grip systems on the temple. This provides a fit that stays secure even during vigorous activities.

Lens technology: The lenses of the SP0067 employ cutting-edge technology. They offer high-definition clarity and are tinted to enhance contrast, ensuring excellent visibility when ready greens in various light conditions. Additionally, the lenses provide 100% UV protection and have an effective anti-glare feature, which is beneficial for golf and just about any outdoor sport.

Performance and utility: In action, the SP0067 proves to be an excellent companion for various sports. They stay secure during the golf swing and would be comfortable when running, cycling, and even more extreme activities like mountain biking or climbing. The clarity of vision they provide, regardless of lighting conditions, is commendable.

Value for money: The SP0067 sunglasses, while on the higher end of the price spectrum, deliver an impressive array of features that justify the cost. The combination of durable construction, advanced lens technology, and excellent performance makes them a worthwhile investment for serious athletes.
Pros:
Lightweight and durable construction
Excellent lens clarity and UV protection
Secure and adjustable fit
Versatile performance across various sports
Cons:
Price point may be prohibitive for some
Design may not appeal to those looking for a more subtle aesthetic
SP0070 Adidas Sport Sunglasses
The Adidas SP0070 sunglasses design leans more towards a sleek and modern aesthetic that marries functionality with style. Upon first wear, they feel slightly more substantial than the SP0067, but they remain comfortable and well-balanced.
Frame construction: These sunglasses feature a sturdy yet lightweight frame made from a durable material designed to withstand heavy use. The comfort level is high, thanks to adjustable nose pads and temples that ensure a snug and customizable fit.
Lens technology: The lenses of the SP0070 come in three different colors – smoke, brown and green. They offer high-definition clarity, 100% UV protection, and an anti-reflective coating that effectively reduces glare. This lens technology is designed to enhance performance while protecting the eyes.
Performance and utility: The SP0070 sunglasses perform exceptionally well in different golf conditions, including wind, rain, heat and humidity. They remain secure and comfortable during running, cycling, and other outdoor activities, providing uninterrupted, clear vision throughout.
Value for money: While the SP0070 model is priced similarly to the SP0067, the advanced lens technology, durable construction, and impressive performance make them a valuable addition to your golf gear. They offer a good balance of style, functionality, and performance, justifying their price tag.
Pros:
Sturdy and durable construction
High-definition lenses with 100% UV protection
Customizable, secure fit
Excellent performance in diverse sports scenarios
Cons:
Higher price point
Design may not be to everyone's taste, particularly for those preferring a less sporty aesthetic
Both the SP0067 and SP0070 models excel in delivering high-quality, durable frames and advanced lens technology that significantly enhance performance on the golf course. The SP0067 offers a more lightweight construction, while the SP0070 impresses with a slightly more substantial feel and sleek design. Both models are priced on the higher side, which could be a deterrent for some. However, in addition to Adidas name, they offer a more than enough features to justify the cost.
For those looking for lighter sunglasses and a sportier design, the SP0067 is an excellent choice. It delivers on all fronts — durability, clarity, and fit — making it perfect for high-intensity sports. On the other hand, if you value a blend of style and function and don't mind a slightly more substantial feel, the SP0070 is a suitable pick. Its high-quality lens technology and solid construction make it a worthy companion for a broad range of outdoor activities.
Both sunglasses models exemplify Adidas's commitment to producing high-quality equipment for the golfer. They incorporate cutting-edge technology, thoughtful design, and careful construction to enhance performance while providing optimal eye protection. Despite their higher price point, the value delivered by both models makes them a sound investment for serious players who prioritize quality, functionality, and style in their gear.
Conclusion
Adidas continues to reinforce its position as a leader in the golf industry, and its performance in the eyewear sector is no exception. The SP0067 and SP0070 models reflect the brand's commitment to quality, innovation, and meeting the diverse needs of golfers looking to improve their game.