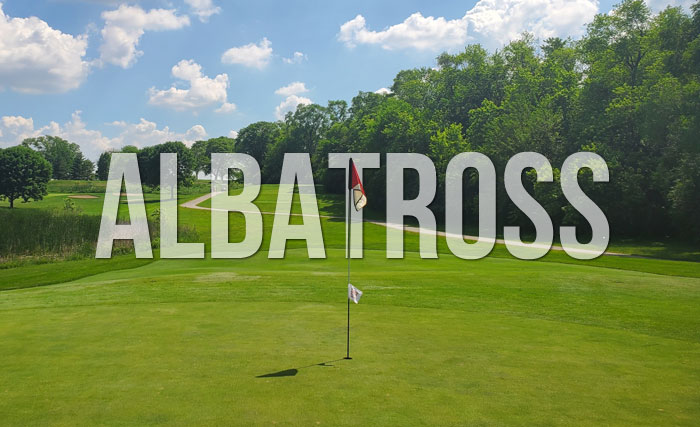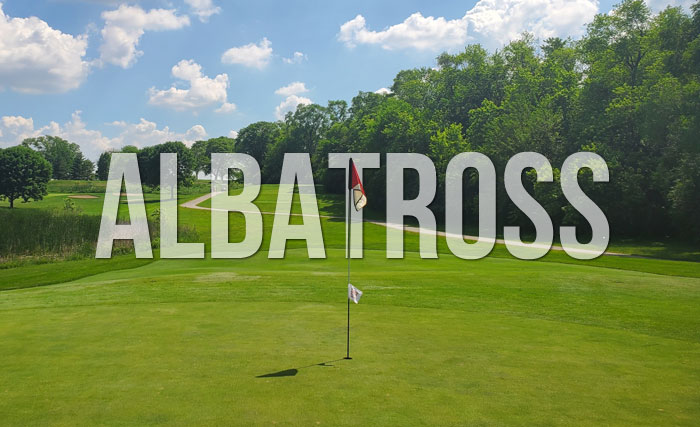 A score on a hole equal to three strokes under par in golf is called an albatross or double eagle. An albatross is achieved when a player either scores a two on a par 5 or aces a par 4. In golf, albatrosses are even more rare than a hole in one.
How a Bird Became Part of Golf
In the United States in the 1800s, the term "bird" was slang for something great or wonderful. Consequently, when the game started to become popular in the United States in the late 1890s, the word "birdie" became attached to a score on a hole that was one under par.
The bird theme in golf continued with an "eagle", referring to a score that was two shots under par, which was significantly more uncommon than a birdie. Why would a score that is three stokes under par be called an Albatross? Probably because of standing of this particular bird amongst its other feathered friends.
The albatross has been described as "the most legendary of all birds". Harming an albatross could be bad luck, according to a widespread myth. Sailors often believed that albatrosses were the souls of their lost brethren, so killing these birds could be bad news for their livelihood.
Albatrosses are among the largest of flying birds, located primarily in the Southern Ocean and the North Pacific. Often listed as an endangered species, the numbers of albatrosses have declined in the past due to harvesting for feathers.
Odds of Making an Albatross
Because they require two near perfect shots, albatrosses are exponentially rarer than an ace. Length off the tee is necessary to even have a shot at reaching the green in two on a par five or holing a drive on a par four. This limits the potential for an albatross to less than 10% of all golfers.
Louis Oosthuizen used a 4-iron from 253 yards to post his double eagle in the final round of the 2012 Masters. This shot followed a massive 320-yard tee shot down the second fairway.
Depending on the data source, the odds of making an albatross are between six million to 1 and one million to 1. Comparatively, the odds of the average golfer making a hole-in-one are 12,500 to 1 according to the National Hole-in-One Registry.
According to the CDC, the odds of being struck by lightning are around 500,000 to 1. Although you have a better chance of a lightning strike, an albatross is much more common than winning the lottery. Your chances of winning the lottery in which you pick 6 numbers from a possible pool of 49 numbers are roughly 14,000,000 to 1.
Notable Albatrosses
According to the Double Eagle Club, which is dedicated to the identification, registration and preservation of Double Eagles scored worldwide, there were three double eagles posted on the PGA Tour in 2019 and three more in 2020. The last albatross posted on the LPGA Tour was in 2016 by Yani Tseng at the Sime Darby LPGA in Malaysia.
Tiger Woods and the Chase for an Albatross
When the greatest of his generation doesn't have an albatross, you know how difficult it is to attain the feat. Such is the case for Tiger Woods, who is without a double eagle in competition.
Although Tiger has never recorded an albatross on TOUR, his closest call came in 2015 at the Waste Management Phoenix Open, which was won by Brooks Koepka. After a 329-yard drive, Tiger hit his second shot just 7 inches from the pin for a tap-in eagle.
Two Albatrosses in One Tournament
The last time two albatrosses occurred in the same tournament on the PGA Tour was at the 2015 Arnold Palmer Invitational at Bay Hill Club in Orlando, Florida. Daniel Berger posted his on the 6th hole in round three and Zach Johnson followed up with an albatross on the 16th hole in round four.

Albatrosses at the Majors
As you might expect, albatrosses don't happen very often at men's major championships, which often feature extremely long and difficult course setups. However, the feat has happened 18 times, the last being at the 2012 US Open.
| Player | Tournament | Course | Year |
| --- | --- | --- | --- |
| Nick Watney | U.S. Open | Olympic Club | 2012 |
| Louis Oosthuizen | Masters Tournament | Augusta National | 2012 |
| Shaun Micheel | U.S. Open | Pebble Beach | 2010 |
| Paul Lawrie | The Open Championship | Turnberry, Ailsa | 2009 |
| Joey Sindelar | PGA Championship | Medinah CC | 2006 |
| Gary Evans | The Open Championship | Royal Troon | 2004 |
| Greg Owen | The Open Championship | Royal Lytham | 2001 |
| Jeff Maggert | The Open Championship | Royal Lytham | 2001 |
| Manny Zerman | The Open Championship | St Andrews | 2000 |
| Per-Ulrik Johansson | PGA Championship | Riviera CC | 1995 |
| Jeff Maggert | Masters Tournament | Augusta National | 1994 |
| Darrell Kestner | PGA Championship | Inverness Club | 1993 |
| Chen Tze-chung | U.S. Open | Oakland Hills | 1985 |
| Bill Rogers | The Open Championship | Royal Birkdale | 1983 |
| Johnny Miller | The Open Championship | Muirfield | 1972 |
| Bruce Devlin | Masters Tournament | Augusta National | 1967 |
| Gene Sarazen | Masters Tournament | Augusta National | 1935 |
| Young Tom Morris | The Open Championship | Prestwick | 1870 |