The Antigua Apparel brand has been a familiar name to golfers since the company was founded in 1976. Since that time, the company has been represented by numerous professional golfers on the PGA Tour, Web.com Tour, LPGA and Symetra Tour, as well as the U.S. Ryder Cup team and U.S. Solheim Cup teams.
Having this type of pedigree could be seen as both a positive and a negative from a consumer's perspective. A company that has made a quality golf clothing for more than 30 years certainly has earned a great deal of trust within the marketplace. However, today's golfer has a somewhat different outlook and certainly different taste than it had in the 1990s.
With that perspective, I was pleasantly surprised with the overall performance of the new Antigua Performance 72 Collection of golf clothing. The half zip pullover that I tried was lightweight and warm – two musts for golfers in the Midwest. The advanced technology in the fabric is obvious as it easily moves with the rotation of your body. Heavier materials can often restrict movement throughout the swing, but this was definitely not the case with this Antigua pullover.
In addition to the impressive performance, the Performance 72 Collection also features some dynamic colors and designs that should appeal to a wide age demographic of both male and female golfers. The vibrant colors worn by many of today's top male and female professional golfers have attracted a similar fan base that should appreciate the bold design and subtle details of this line from Antigua.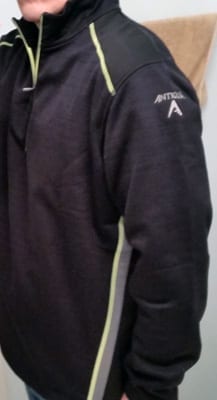 "The Spring 2015 Antigua Golf Outerwear Collection is the focal point of Antigua's ever-expanding lightweight golf outerwear," said Ron McPherson, President and CEO of Antigua. "Technology advancements have included new lightweight functional fabrics, making the design potential limitless. And golf outerwear has been crossing over to daily wear use, which has helped grow the category."
From a consumer's perspective, the technology advancements made with these lightweight fabrics are obvious. The Performance 72 Collection is among the most comfortable and most fashionable golf outerwear that I've experienced. From my perspective, this classic golf brand has successfully evolved into a leadership role for the new era of golf.
This new apparel and technology should benefit Antigua Tour Staff Player Stacy Lewis, who made history in 2014 by becoming the first American to win the LPGA "triple crown" in 21 years. Lewis captured the Rolex Player of the Year award, the Vare Trophy (for lowest scoring average) for the second year in a row, and the year end Money List title with more than $2.5 million in winnings.
For more details on Antigua's Spring 2015 Golf Outerwear Collection, visit www.antigua.com.