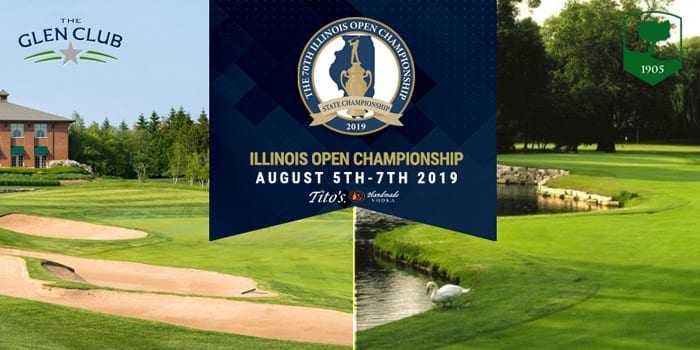 "It's robot fightin' time!" is the catch phrase used by the announcer on the Science Channel TV series Battlebots that lets the audience know that the action is about to begin. Not quite as destructive, but surely as intense, when the Illinois Section PGA announces "it's Illinois Open time" the action is about to begin in the competition that determines our state's golfing champion.

This year the state championship tournament will be held at Ridgemoor Country Club in Harwood Heights and The Glen Club in Glenview on the dates of August 5-7. 2019 marks the 70th playing of the Illinois Open which dates back to 1950.

The format for the 70th Illinois Open Championship is a 54-hole stroke play event with a 264 player field size limit. The field is comprised of place-winners in the qualifying events and those players exempted from qualifying. Players will complete their first two rounds at both Ridgemoor Country Club and The Glen Club. Following 36 holes of play, the field will be cut to the low 50 scorers plus ties, and anyone within 10 strokes of the lead. The final round will take place at The Glen Club. In case of a tie for the Championship, a three (3) hole total stroke play-off will take place following the posting of the final score. If the tie has not been broken after three holes, the playoff will continue at sudden death.

Eligibility for the Illinois Open is available to any legal resident (professional or amateur) of the State of Illinois. Illinois PGA Members and Apprentices working as such within the Illinois Section are eligible. Amateurs must carry a verified handicap index of 10.0 or less.

The 2019 total purse will be announced August 5th during the first round of the 70th Illinois Open Championship, but is expected to be equal to or greater than the 2018 purse of $97,485 which was shared among players who competed in the 69th Illinois Open Championship. Amtateur contestants that finish "in the money" receive gift certificates. The winner has his/her name permanently engraved on the Illinois Open Trophy.

The defending champion is Vince India of Deerfield, IL. There are seven past champions scheduled to compete in this year's state open: Patrick Flavin, 23 of Highwood, Ill., (2017-A), Carlos Sainz, Jr., 33 of Elgin, Ill., (2016), David Cooke, 26, of Lisle, Ill., (2015-A), Philip Arouca (a), 34, of Lake Forest, Ill., (2011), Eric Meierdierks, 34 of Wilmette, Ill., (2010), Mike Small, 53, of Champaign, Ill., (2003, 2005, 2006, 2007), and Roy Biancalana, 59, of St. Charles, Ill., (1987, 2001)

The 2019 field size of 264 participants is comprised of 111 professionals and 153 amateurs. As in the past, there is no charge to spectators for admission or parking.