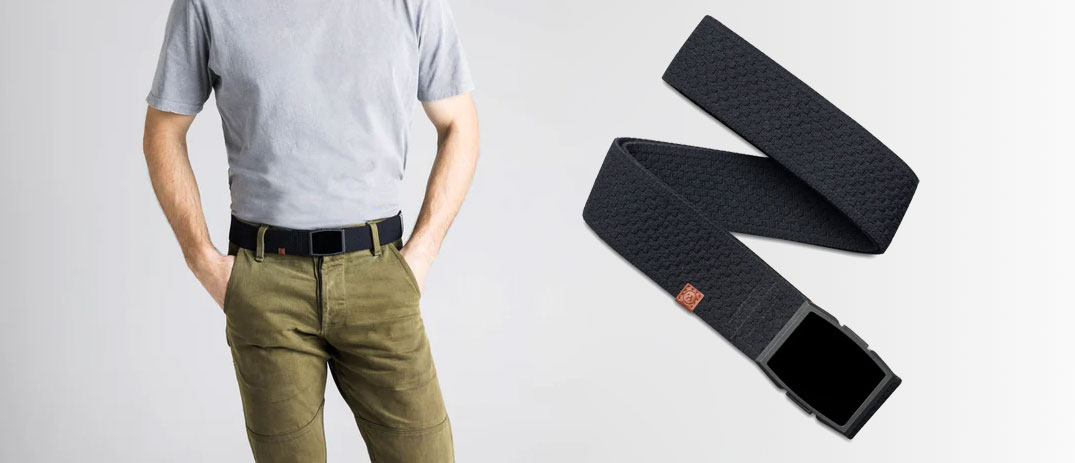 Have you ever forgotten to pack a belt for a golf trip? If you haven't, consider yourself lucky as it can be a harrowing experience trying to navigate the golf swing while worrying about the stability of your trousers.
Whether you realize it or not, belts are an extremely important accessory for golfers. Wearing a belt helps to keep your pants in place throughout the swing and can provide additional support and stability during the shot.
The right belt can also help improve posture, which can have a positive impact on overall performance. Additionally, the right belt can help to make a golfer look more professional out on the course.
Product Summary
To that end, I recently tested the Arcade Lookout Performance Stretch Belt, which retails for $39.95 on their website. Arcade Performance Stretch Belts offer a variety of benefits for golfers.
Because of their unique design, they can help increase your range of motion and flexibility, as well as reduce swaying within the golf swing – especially during the transition to the downswing. This belt is also designed to help with posture and endurance, which can be especially helpful when playing a long round of golf. Additionally, the belt is lightweight and breathable, making it comfortable to wear during play.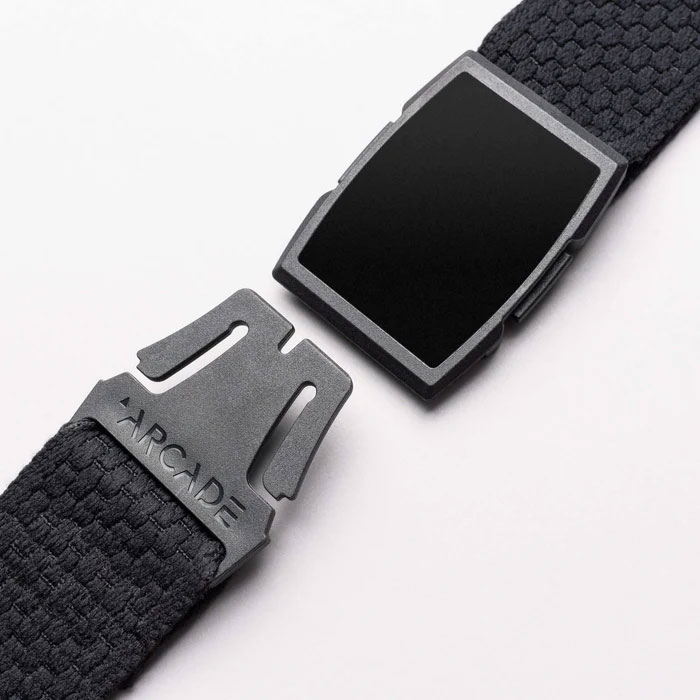 Who is the Product For?
The Arcade Performance Stretch Belt is designed for golfers of all ages and abilities and is up to 40" long. Whether you're a beginner or a professional, the belt can help to improve your game by providing support and flexibility while increasing range of motion.
Features
Performance Stretch – Arcade Performance Stretch Belts help provide freedom of motion to move with your body. This is vitally important on the takeaway of the golf swing, as we seek maximum extension and flexibility.
The Arcade Lookout Performance Stretch belt is especially good at providing a firm hold without pinching or restriction. That's a big ask for most belts, especially those manufactured with leather.
Custom Fit – The micro-adjustable buckle, which is more precise than holes, helps dial in your exact fit. Their proprietary fabric blend is designed to provide comfortable support and allow for natural movement throughout the golf swing.
Recycled Materials – The webbing of the Arcade Lookout Performance Stretch belt is made with 85% post-consumer recycled REPREVE® polyester, which is a stretchy, lightweight fabric blend of polyester, Spandex and Lycra.
Since the Arcade Lookout Performance Stretch Belt is metal-free, it will also make airport security simple and easy. This belt is also super easy to take on and off.
Built to Last – Many Arcade performance belts are also equipped with moisture-wicking technology, helping to keep golfers cool, dry, and comfortable throughout their round in any conditions. The REPREVE® polyester and other materials in the webbing are exceptionally durable and won't wear out even after years of use.
Questions and Answers
Can you trim an Arcade Belt?
It's usually not necessary to trim an Arcade Belt since the product is adjustable. For most belts, one size fits most (OSFA), up to 40″.
Who owns Arcade Belts?
Arcade Belts was founded in 2010 by Tristan Queen, from Lake Tahoe, California. Queen wanted to build a better belt for active sports that didn't have a buckle, yet still was flexible and sturdy.
Where are Arcade Belts made?
According to the product tags, Arcade Belts are made in China.
Conclusion

The Arcade Lookout Performance Stretch belt definitely has changed the way I look at belts. As with most clothing items for male golfers, comfort comes first.

This is a really comfortable belt that is also extraordinarily durable. It's easy to see that a great deal of research and design went into making this product a step above what most of us have come to expect from a belt.

Once you wear a quality belt like the Arcade Lookout Performance Stretch belt, it's easy to why this can be a crucial accessory for golfers. Because on the golf course, if you look better, you feel better and you play better.