Trust is everything in golf. All it takes is one slip during a golf swing and the trust you have for your golf shoes is on shaky ground.
Ask any golfer and their ability to grip mother earth is the last concern they that want on their mind when faced with a challenging golf shot.
Functional shoe grip is even more important for competitors in the Volvik World Long Drive Championship, where swing speeds can reach 150 miles an hour. It is with these big hitters in mind that The Athalonz EnVe golf shoe was designed.
The lightweight and spikeless EnVe is uniquely built for today's power-centric game. Tested by professional long drivers including Mitch McDowell and Ryan Steenburg, the goal of the shoe was to provide a balanced and secure feel, along with extra support thanks to a thin and pliable "bootie" that helps establish a deeper foundation to terra firma.
The Athalonz EnVe was tailored with the goal of today's distance game in mind to maintain maximum power, performance and comfort. This shoe was scientifically engineered to provide the highest level of firmness throughout the golf swing – from setup through finish. The by-product is a shoe that helps the golfer stay more firmly connected to the ground, allowing maximum utilization of the power generated from the ground up.
The comfortable support bootie, phylon midsole and lockdown leather combine to make this a shoe that provides comfort and performance in all weather conditions. In addition, the Athalonz EnVe was designed with natural flex zones that move with your feet, helping to keep your feet comfortable and water resistant all the way through the 18th hole.
In addition to these remarkable performance features, the Athalonz EnVe offers a sleek and modern design that looks as good as it feels. The midsole provides maximum output by working cohesively with the Grip & Glide outsole that was designed for an optimized transfer of energy from back to front during the golf swing.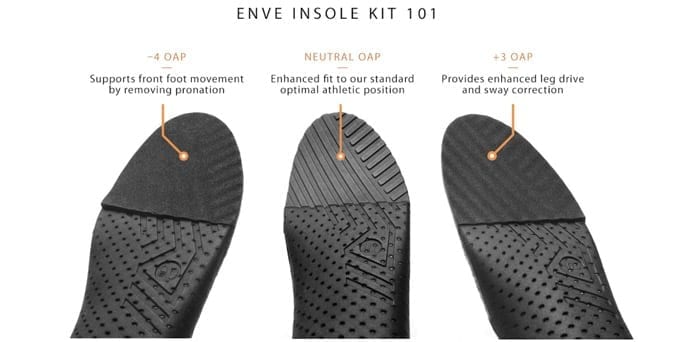 To help further customize fit, Athalonz offers the EnVe custom insole kit with three different insoles designed to help you perform at your best. The -4 OAP insole supports front foot movement by removing pronation while the +3 OAP provides enhanced leg drive and sway correction. The neutral OAP offers enhanced fit to your standard optimal athletic position.
The Athalonz EnVe could also easily be worn off the course, which is remarkable considering how much traction it provides on turf. This shoe may be built for power and performance, but the comfort it provides is a true game changer.
Even if you don't have a 150 MPH swing speed, the Athalonz EnVe provides the kind of next level design and engineering that could make a big difference for your game. No matter what surface or condition, this is a shoe that helps eliminate doubt and promotes trust on every shot.
[schema type="product" url="https://www.athalonz.com/products/athalonz-golf-shoe" name="Athalonz EnVe" description="The Athalonz EnVe was tailored with the goal of today's distance game in mind to maintain maximum power, performance and comfort." brand="Athalonz EnVe" manfu="Athalonz" model="EnVe" price="$199.99″ ]