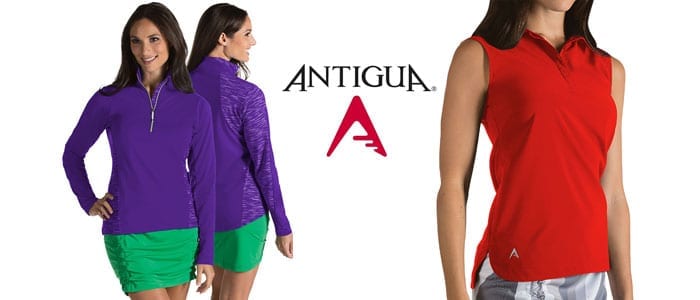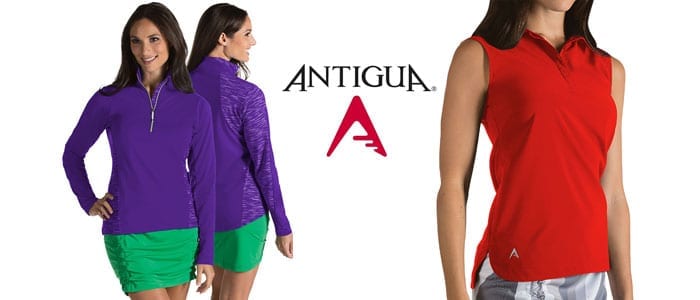 The term "Horses for Courses" is a popular saying on the professional golf tours. It represents the fact that some players often perform better on certain golf courses. The course layout may suit their eye, the greens may be something they're used to, or maybe the length of the course plays to their advantage. Whatever the case, each player typically has a favorite that just feels right.
The same can be said for golf apparel. Some clothes just "feel" better. This is especially true on the golf course.
If I'm wearing an outfit that fits well and makes me feel good, I often perform better. Whether that's directly due to the material, the fit or it's just in my head, "it" happens a lot.
That's overall idea is behind the 2017 ladies golf collection from Antigua. There's something for each player in this collection, because I'm assuming the designers realized we're all looking for that ultimate "feel" within our apparel that helps play our best golf.
Antigua offers five different styles in this collection, all with unique details.
Mischief is a sleeveless style that comes in a multi-color print. It's great because it allows you to wear multiple different-colored bottoms. Mischief features a popular asymmetrical fabric blocking detail with a geometric pattern that runs at an angle across the top of the garment.
The Sterling is a long sleeve, half-zip pullover that includes an ultra-soft peached jersey fabric, run in solid color for the body and a space dye pattern for the insets. The space dye fabric utilizes two primary colors along with black and white.
Trust is made from an ultra-light, high-stretch woven fabric. This is a uniquely feminine design that comes with a rounded tail bottom and cute pin-tucks at the top shoulder. This top is perfect for an active lifestyle, on and off the golf course. It's casual enough for running errands but also sophisticated enough with its no-stitch self-fabric collar and covered button placket.
The Haven style is sporty and athletic with a single line of printed color around the zipper placket and collar. The all-white-bodied garment includes a color silicone print on the collar that gives the illusion of tipping with the tech feel of silicone. I like the pointelle mesh pattern insets and sleeves, because they do a great job of keeping me cool and dry in the summer heat.
The final style is the creative Rogue, which mixes the entire color palette in an all-over linear sublimation print. It's a bold print with traditional styling and a button placket and open cuff. This is a great style that works well with lots of different bottoms.


"In the new collection, fabrics and colors play a key role versus styling and silhouette" said Danielle Dellios, Antigua women's designer. "The market was calling for a fresh take on primary color, which was made possible by mixing colors together. Thus, each grouping consists of two primaries. For example, our new green color, Cypress, is mixed with a bright blue color, Cabana. There are a total of four color combos, each mixing two primary colors. Every printed, striped or color-blocked style within the collection mixes the two colors, instead of using traditional neutral accents like grey or khaki. Combining two complementary primary shades really pops. Prints are as strong as ever in the marketplace, which meant creating unique artwork that could also be used to mix colors and give new life to basic styles."

Whatever your preferred style, there's a good chance you'll find a great fit in the ladies golf collection from Antigua. You may not always get to play your favorite golf course, but can always wear a style that matches your game.