Golf travel is a necessity for anyone who loves the game and lives in the Midwest. It's been said a million times that golf season is just too short in Chicago. Although there are plenty of places to practice your game in the winter, you've got to find warmth during the cold weather months for the full experience.
Travel in general can be stressful, so it's always nice to find something new to help make the experience more palatable. If you're like me, sleeping on a plane can be somewhat of a struggle. However, I recently tested a new travel pillow that could be a game changer for those of us who are sleep-challenged on an aircraft.
The Cabeau Evolution Cool is a revolutionary travel pillow that is unlike any travel pillow I've ever experienced. Just watch the promo video above for this product and you'll see how much engineering and design went into redefining what we've come to expect from a travel pillow. It's been called a "must-have" for travel to golf tournaments by rising LPGA and social media star Paige Spiranac.
Sporty and stylish, the Cabeau Evolution Cool is built with dual-density memory foam, innovative cooling vents and provides 360-degree head and neck support. The cooling vents solve the long-time problem caused by most foam pillows – overheating.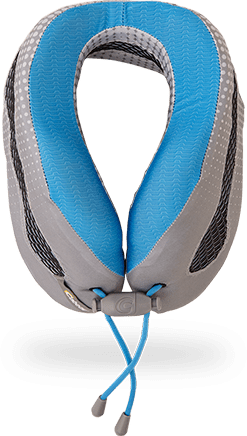 On even short flights, it's easy to wake up drenched in sweat when using a standard travel pillow because the dense foam, or similar material, can't breathe. That's where the unique venting system comes in handy, helping to dissipate the heat while still providing enough support to keep your head and neck upright.
The Cabeau Evolution Cool includes a soft memory foam outer layer as well as a strong, durable core that provides comfort on even the longest flights. The magnetic custom-sizing toggle also helps create a perfect fit for just about any size user.
In addition to the support, comfort and fit, this pillow includes a deluxe travel case that compacts to half its size for quick and convenient packing. Traditional foam travel pillows are often bulking, creating another element of inconvenience, requiring a large storage option before and after flights.
Transportation through airports, flights and hotels often makes it hard to clean luggage clean. What also nice about the Cabeau Evolution Cool is its removable, washable cover and the moisture-wicking fabric that absorbs perspiration and can be easily removed and washed.
The folks at Cabeau have thought of just about everything when designing this pillow, so it's no surprise that they include a pair of memory foam earplugs to help block out the sound of a neighbor snoring or other ambient noise for a more restful sleep.
Before you schedule your next trip, be sure to pick up the Cabeau Evolution Cool travel pillow. The product retails for $59.99 and it's extremely travel friendly and is a great investment that should help you arrive at your destination rested and ready to play golf.