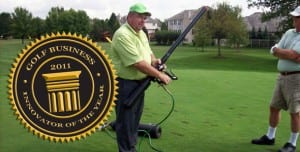 Oswego-based PGA Professional and business owner Mike Tait has been named the 2011 Golf Business Innovator of the Year by golf improvement website GolfAid.com. Tait is the founder of SMT Golf Outing Services, a golf entertainment and fundraising company that has worked with golf outings since 2009 to raise over $2,500,000 for more than 300 charities, groups and corporations. The award was presented to Tait for his spirit of innovation and commitment to growing the business of golf.
After losing his mother to cancer in the spring of 2009, Tait focused the memory of his mother towards helping charities by revolutionizing the traditional golf outing with his unique system of entertainment and fundraising. While working as a club professional at local courses such as Butterfield Country Club, Mike was exposed to the intricacies and nuances of managing successful golf events. After seeing the same types of outings year after year, Tait became convinced that the traditional golf outing model was becoming less efficient and more exclusionary toward casual golfers.
SMT Golf Outing Services uses a proprietary system of outrageous on-course games and fundraising programs to help all types of causes in need of increasing revenue at their events. His company provides an affordable, turn-key solution that helps events of all sizes increase their revenue while creating remarkable events that create raving fans.
Visit GolfAid.com for the complete article.