Since 1895, like the Masters, Chicago golf courses have hosted nearly every great golfer to ever play the game. Numerous major professional and amateur tournaments have been held at top golf courses in Chicago and its suburbs, beginning with the US Amateur Championship in 1897 at Chicago Golf Club in Wheaton.
One of the most popular local events in the 1920s and 1930s was the North Shore Open, which featured great players such as Walter Hagen, Tommy Armour, Jock Hutchinson, Harry Cooper, Archie Compston, and Horton Smith, who was a host professional at Oak Park Country Club.
Horton Smith was also the first player to win the Masters in 1934. The World Golf Hall of Fame member also won the tournament again in 1936. Three years before his first Masters victory, Horton Smith played in the North Shore Open at Sunset Valley Golf Club in Highland Park. Smith came up short in his quest to win the North Shore Open, but he did win 34 times as a professional, including his two victories at the Masters.
In 1930, the year before Horton Smith competed at Sunset Valley, the Park District of Highland Park board of commissioners invited the legendary Bobby Jones to play in the North Shore Open. Jones was the man who founded the Masters golf tournament and also helped design its home course – Augusta National Golf Club in Augusta, Georgia.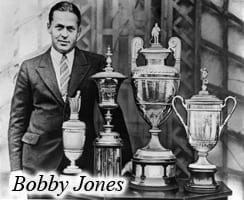 Unfortunately, Jones was busy winning the Grand Slam in 1930 and was unable to compete in the North Shore Open at Sunset Valley Golf Course. In 1930, Jones won the US Open at Interlachen Country Club in Edina, Minnesota, the Open Championship at Royal Liverpool Golf Club, the US Amateur Championship at Merion Golf Club in Ardmore, Pennsylvania and the British Amateur Championship at St. Andrews in Scotland. Years later, Jones' own Masters tournament would replace the British Amateur Championship in the group of four major golf tournaments.
Neither Smith nor Jones ever won a golf tournament in the Chicago area, however, they both left an indelible mark on the Masters and Chicago golf.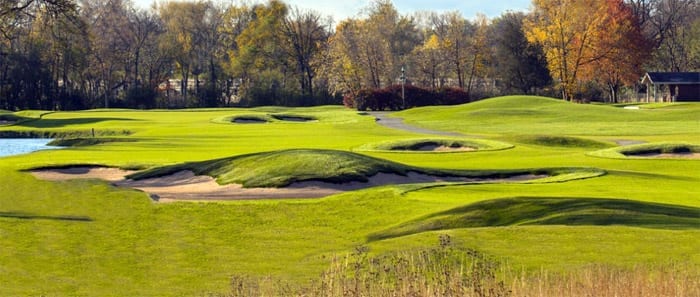 In 2018, Sunset Valley Golf Club underwent a $7 million renovation of all tees, fairways, greens, and bunkers as well as overall infrastructure upgrades for drainage and storm water management. The improved Sunset Valley Golf Club reflected a British heathland course design which harkens back to the character and aesthetic appeal of the course's original 1920's era of golf course architecture.
Sunset Valley Golf Club
1390 Sunset Rd
Highland Park, IL
(847) 432-7140